UK mochi ice cream brand Little Moons has brought a new flavour, Golden Blond Chocolate, to Australia.
Available to buy now exclusively from Woolworths, the new flavour is described as the "perfect little lift", combining "delicate" white chocolate and caramelised sugar, blended with Little Moons' signature "silky smooth" golden gelato, studded with milk and white chocolate pieces and all "perfectly" wrapped in a sweet rice dough.
Golden Blond Chocolate will sit alongside three of Little Moons' most popular flavours, Vegan Belgian Chocolate & Hazelnut, Vegan Tropical Passionfruit and Mango and Honey Roasted Pistachio.
In line with the rest of the range, Golden Blond Chocolate is gluten free and free from artificial flavourings, colourings and preservatives.
To celebrate the launch, Little Moons is opening the world's "littlest "ice cream parlour in Sydney's Kensington Street, serving up "bite-sized ice cream from another world from a shop no bigger than a suitcase".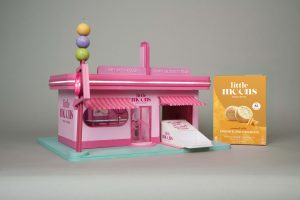 From 19-21 May, between 11.30am and 9pm, Little Moons fans can head to 32 Kensington Street, Chippendale, to sample Golden Blond Chocolate mochi ice cream (along with the other flavours) for free.
"Following the overwhelmingly successful introduction of Little Moons down under in 2022, Australia is now a key market for us, so we're thrilled to now introduce one of our best sellers, Golden Blond Chocolate, here too," says Little Moons co-founder Vivien Wong.
"We've loved seeing Aussies getting a perfect little lift from our mochi bites and can't wait to expand our flavour offering even more later this year."
Golden Blond Chocolate is now available to purchase from Woolworths, with a RRP of $10 per pack of six mochi.