Nicole Saleh, supplied by Paradox Coffee Roasters
(Feature Image: Paradox Roasters Cafe, supplied by Paradox Coffee Roasters)
Paradox Coffee Roasters Café is a well-known specialty coffee destination in Surfers Paradise.
From Paradox Coffee Roasters Marketing Director Nicole Saleh
Paradox Coffee Roasters, an Australian roaster launched in 2015, advocates the importance of provenance, traceability and sustainability in sourcing high quality Arabica beans from around the world.
The name is linked to the "coffee paradox", which shows the coexistence of the coffee boom in the consuming countries and the coffee crisis in the producing countries. The Paradox Coffee Roasters ethos is to buy high quality green coffee beans from farms and co-operatives where farmers are paid a fair wage for their labor to alleviate the coffee paradox as best as possible. Paradox Coffee Roasters is "for the people": from the farmers who make it to the customer who sips their coffee, it values ​​the people who are part of the coffee process.
The Paradox Café in Surfers Paradise is a uniquely designed space with a contemporary atmosphere. It features a colorful mural by global street artist Vans the Omega, high ceilings in warehouse style, cozy booth seating, and large communal tables for group meetings or meetings, while those who prefer their coffee in the sunshine can relax on the deck.
The room is intended to present the coffee making process. Take a seat in the front row of the U-shaped coffee bar and watch seasoned baristas make coffee on their new state-of-the-art Rancilio RS1 espresso machine. You'll see them take a perfectly timed shot and show artistry in their latte pour, which conveys the passion for delivering exceptional coffee.
That same passion for quality coffee is reflected in Paradox's menu, where ingredients are sourced from local suppliers. With an all-day breakfast and lunch menu put together by the chef, there's something for everyone, including vegetarian, vegan, and gluten-free options.
There is a monastery on site (with a second monastery in Sydney) with a custom-made Brambati roaster from Italy. Coffee cups (tastings), coffee training and barista training take place in the Paradox Lab. The Paradox Café team is trained to the highest standards to ensure they are constantly updating their skills and coffee knowledge. The education and training is also offered to café partners who serve Paradox coffee.
Working closely with café partners, Paradox's roasting team leads the way in green bean selection and roasting profile creation, raising the bar for creating award-winning specialty coffees that are full of flavor and satisfy even the most refined palate.
Paradox Café's house blend, Picasso Baby, is designed to deliver vibrant, rich new flavors made from micro lots, all of which are sustainably sourced. According to the Paradox team, this fruit-based blend features blackberries topped with cola and dark chocolate and a juicy, silky body.
Paradox also features single origins, a filter roast, and an espresso roast that change every month. The origins include Ethiopia Uraga Tome Gr1, the Cup of Excellence Brazil Bela Epoca Natural and Burundi Nyamaso Gr1. Filter-brewed coffee can be enjoyed in the café or favorite coffee beans in 200 g and 1 kg bags can be taken home. The barista can grind the coffee for the customer's brewing equipment. Paradox's full range of blends and origins is also available through the online shop and can be delivered to your home.
Paradox Coffee Roasters Café is located on 10 Beach Road, Surfers Paradise. Wholesale Inquiries: 1800 849 335. Email: roastery@paradoxroasters.com. Website: paradoxroasters.com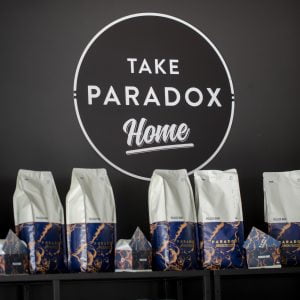 Paradox Roasters Cafe, supplied by Paradox Coffee Roasters
SPECIAL OFFER for readers of Retail World
Get a 20 percent discount on Paradox Coffee 1 kg bag online and FREE delivery with the code RW20 *. Available until December 31, 2020.
Visit paradoxroasters.com for more information.
* Not suitable for other offers.
About Nicole Saleh

Nicole Saleh has been in the coffee industry in marketing and branding for more than 20 years. She has local and international experience working for an Australian global coffee brand. As the owner of a cafe and a monastery, she continues to share her passion for coffee. Contact them on 0408 686 555.