Connoisseur is promoting its latest launch as its "most decadent and innovative ice cream range yet".
An "ode to secret laneways and artisanal delights", Connoisseur Laneway Sweets offers three new premium ranges of ice cream sticks: Salted Pretzel, Rocky Road and Triple Choc Cookie.
"At Connoisseur, we pride ourselves on expressing trends in our own unique way and as the trend of snacking treats and decadence merging together grows, we're pioneering this in the ice cream category with the launch of Laneway Sweets," says Connoisseur Senior Brand Manager Tara Cook.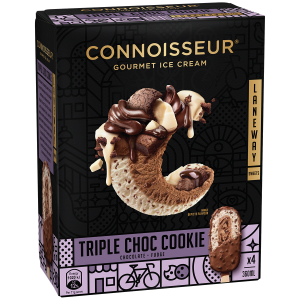 "We've put our Connoisseur twist on the iconic flavours of decadent treats discovered in laneways across Australia to create our most indulgent ice cream range yet. This new range will be sure to thrill the senses of our consumers like never before."
The Connoisseur Laneway Sweets range is now available nationwide. Rocky Road is available in multipack (RRP $9.50) alongside Salted Pretzel, which will be available in loose packs (RRP $4.70) and multipacks (RRP $9.50) at all leading supermarkets. Triple Choc Cookie will be available in multipacks (RRP $9.50) as a Woolworths exclusive.