Woolworths and the Royal Australian Mint are celebrating 100 years of Vegemite with the release of a limited-edition range of $2 coins.
When shopping in store, Woolworths customers paying in cash will be able to collect three exclusive $2 coins in their change.
One design will be released each week into the cash tills across a three-week period. There's three million of these coins available for customers to collect across Australia.
Designed by Royal Australian Mint coin designer Aaron Baggio, each coin in the series features a unique illustration celebrating the Vegemite centenary. A coloured circle in the Vegemite brand colours of yellow, red and black encompasses each illustration, accompanied by a different Vegemite tagline.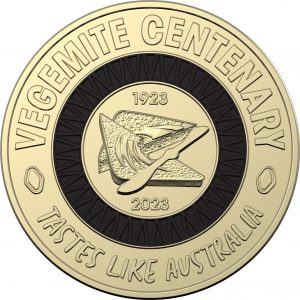 The first coin features a jar of Vegemite as its focal point, with the words '100 Mitey Years' at the bottom. The second coin features a slice of Vegemite toast, with the words 'Tastes like Australia', while the third coin features a child eating a slice of Vegemite on toast, with the words 'Happy Little Vegemites'.
"We've proudly ranged Vegemite for decades and it's been a staple in the shopping baskets of Australians for years," says Woolworths Brand & Marketing Director Jane Saleh. "We're delighted to be a part of the celebrations for this iconic brand's centenary."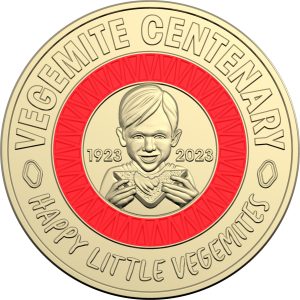 The coins will also feature the Queen Elizabeth II Memorial Obverse.
The release of the Vegemite coins follows previous coin collections between Woolworths and the Royal Australian Mint including Socceroos, 2022 Australian Commonwealth Games Team, The Wiggles, 2020 Tokyo Olympics and Paralympics, Possum Magic, 2018 Gold Coast Commonwealth Games, and 2016 Rio Olympic and Paralympic Games.