The Jones Retail Group held its successful inaugural Charity Race Day at Eagle Farm Racecourse last month, raising over $44,000 for The Cage Youth Foundation with over 200 people in attendance.
The event featured a full day of horse racing, live entertainment, and gourmet food and beverages with attendees having the opportunity to bid on silent and live auction items as well as participating in raffles, with all proceeds going directly to The Cage Youth Foundation.
"Linda, Peter and the Team from The Cage are such an asset to the Redland Coast area, providing much needed support for our community with little or no Government funding. We are proud to be associated with such a great Charity", Jones Retail Group Managing Director Tyrone Jones said.
The Jones Retail Group, a leading retail group based in the Redlands, has a strong commitment to social responsibility through its Heart of the Community Foundation and with the event being part of their ongoing efforts to give back to the community.
"We are delighted to continue to provide much needed funds to The Cage from our inaugural Charity Race Day. Both IGA and Jones & Co Grocer are passionate about supporting our local community and through our own charity, the Heart of the Community Foundation, we feel we can make a difference," Mr Jones said.
Long time charitable partner, The Cage Youth Foundation is a self-funded, non-profit organisation dedicated to empowering disadvantaged youth and plans to utilise the funds to increase its youth development programs as well as purchasing a people mover and transportable building to increase its Celebrate Learning program.
"We would like to extend our sincere appreciation for the overwhelming generosity and support shown by Jones Retail Group. Their remarkable contributions to this event have left a profound impact on our organization," The Cage Youth Foundation co-Founder Linda Grieves said.
"The funds raised will not only enhance our community support services but also play a vital role in acquiring a people mover and strengthening our crisis care intervention. The invaluable support provided by Jones Retail Group reaffirms our dedication to making a positive difference in our community and ensuring the well-being of those we serve."
With the success of the inaugural event, planning is already underway for next year, adding the Race Day to its annual charity events calendar which already includes the annual Golf Day and look forward to continuing to make a positive impact in the community through their philanthropic efforts.
Based in Redland Bay and servicing the Redlands Coast, The Cage Youth Foundation is a self-funded, not-for-profit organisation headed by Pete and Linda Grieve and has been actively helping those in need since 2001. Originally started as a youth outreach program, The Cage Youth Foundation has fast become a much larger organisation with a wide range of facilities for those in need and welcome donations of any kind.
The Jones Retail Group own and run several Jones & Co Grocer IGA stores in the Redlands area including IGA on Bloomfield and Supa IGA Mt Cotton as well as an online shopping option available through its website. The newest store, IGA Queen Street Village, is based in Southport on the Gold Coast, and opened in October 2023.
The Heart of the Community Foundation is dedicated to changing and improving lives through providing funds and contributing to local community and charity groups, making the partnership with The Cage Youth Foundation, a perfect fit.
Jones Retail Group Charity Race Day.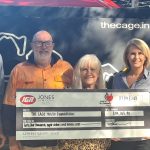 Cheque presentation from left to right: Tyrone Jones (JRG), Peter and Linda Grieve (The Cage Youth Foundation), Leanne Jones (JRG) and David Kindt (JRG).