Independent co-op Hastings Co-op has appointed Nick De Groot as new CEO, commencing from early May.
Hastings Co-op CEO Nick De Groot.
This follows the passing of CEO Allan Gordon on 6 March.
Mr De Groot brings more than three decades of diverse management experience to the Co-op. This includes senior leadership roles with KPMG, Essential Energy, the Roads and Traffic Authority of NSW, Mid North Coast Local Health District and most recently I-Med Radiology MNC.
Mr De Groot holds a Bachelor of Financial Administration and Graduate Diploma of Applied Finance and Investment and was previously a non-executive Director with Bundaleer Care Services, Port Macquarie Chamber of Commerce and Hastings Co-op (since November 2022).
On his appointment, Mr De Groot says: "I'm very excited about the appointment and appreciate the significance of leading Hastings Co-op into the future.
"Having been on the Hastings Co-op Board, I have a deep understanding of the challenges and opportunities we face and the Co-op's importance to the local community."
Chair Gary Humphreys says the new CEO appointment follows a three-month recruitment process, with independent assistance from Chandler McLeod recruitment agency.
"Three Board members and a representative from Chandler Macleod made up the recruitment panel, with final short-listed candidates presented to the full Board in February," he says.
"After reviewing a competitive field of candidates, the Board unanimously agreed that Nick should be offered the role.
"Nick is a dynamic, goal-focussed leader and his finance, strategic planning and risk management experience will help ensure the Co-op is a strong, sustainable business well into the future."
Allan Gordon honoured at IGA Awards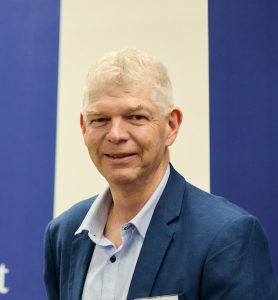 Late CEO Allan Gordon.
At last month's NSW/ACT IGA Awards, at which Hastings Co-op won two major awards (the Large Meat Department of the Year Award and the coveted Community Service Award), IGA and Liquor Division Manager Darren Partridge paid tribute to Mr Gordon in his acceptance speech.
He explained that Mr Gordon was passionate about giving back to the local community during his 10-year tenure, which is reflected in the Co-op's countless sponsorship, partnership and community support programs.
At the time, Acting CEO Gary Humphreys also said the 2022 IGA National Community Service Award was an accolade that Mr Gordon was particularly proud of.
"To win this year's NSW IGA Community Service Award is the ultimate recognition for Allan, who was not just a respected businessman, but a community leader in every sense of the word," he said.
"Allan was the first to coin the term 'Hastings Co-op family' and often talked about the need for customers to feel that they 'belong' and our responsibility to help the community thrive.
"Hastings Co-op is all about community benefit – from rewarding customers who are part of the Coop family and giving back to local groups and charities, to being one of the largest employers of youth and showcasing local producers in our stores."