Woolworths Group has partnered with Community Corporate to help create career pathways for refugees with in-demand technology skills through its new Refugee Digital and Technology Cadetship Program.
From July, a group of eight Iraqi and Syrian refugees with technology experience will embark on 12-week paid cadetships across Woolworths Group's Technology, WooliesX Technology and WiQ data analytics teams. A total of 30 refugees are expected to complete cadetships with Woolworths Group over the next 18 months.
"Refugees with qualifications and experience from their own countries often struggle to obtain employment without prior work experience in Australia," according to Woolworths Group. "Woolworths Group has partnered with Community Corporate to help connect refugees with cadetships that match their experience, with training and certification provided by ServiceNow."
Cloud computing company ServiceNow has conducted an eight-week training program for participants prior to the commencement of their cadetships to support the transition of their skills to Australian workplaces and provide recognised industry accreditation.
Woolworths Group General Manager of Inclusion Catherine Hunter says: "This program makes clear the incredible reciprocal value we can create by better including our refugee community and recognising the valuable skills they bring with them to Australia.
"We're committed to being better together and building a workplace where team members from all backgrounds can grow their career and feel they belong.
"Since 2018, our supermarkets business has welcomed more than 200 refugees through our Refugee Employment Program, helping them build new lives and community connections in Australia. Now we're excited to be taking a more specialised approach in technology.
"These candidates are immensely qualified. This isn't only about social responsibility, this is a strategic program to engage underutilised tech talent in fields where demand has never been greater – and we're grateful for their contribution to our business," Ms Hunter said.
Community Corporate CEO Carmen Garcia says: "Many refugees struggle to find meaningful employment because their overseas qualifications and experience are not recognised in Australia.
"As a result, the Australian Institute of Family Studies has found that within two years of arrival, only 25 per cent of refugees are in employment.
"Now is the time to trial an alternative pathway for industry to access a skilled workforce by unleashing the untapped potential of our refugees.
"We believe there is an abundance of refugee talent out there, and Woolworths Group is leading the charge to leverage the skills, experiences and passion refugees bring to their new home country to solve our nation's skills shortages," Ms Garcia said.
The cadetships span the three core tech hubs within Woolworths Group:
Group Technology: The engine behind business critical operational and corporate technology infrastructure which supports Australia's largest retailer to serve millions of customers every week.
WooliesX: Woolworths' e-commerce team driving customer engagement through digital experiences powered by the Everyday Rewards program.
WiQ: A bespoke analytics business focussed on developing solutions for Woolworths Group, created following the Group's establishment of a majority stake in Quantium last year.
Woolworths Groups' existing Refugee Employment Program is delivered in partnership with Community Corporate and is the country's "largest" single employer-led refugee-specific sustainable employment program. Focussed on the Woolworths supermarkets business, the program has provided employment to more than 200 refugees from 23 different cultural backgrounds since 2018, spanning stores and customer fulfilment centres. The new digital cadetship program represents Woolworths Group's first refugee program tailored to corporate roles.
Eight cadets set to join Woolworths Group through the Refugee Digital and Technology Cadet Program.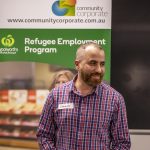 Woolworths meet and greet between senior leaders and refugees at the Surry Hills office in Sydney who are about to start a program with the Woolworths Refugee Employment Program. 27 April 2022. Photograph Dallas Kilponen/Woolworths.