v2food is expanding its plant-based meat offering with the launch of plant-based crumbed chicken products.
The new products – tenders, nuggets and schnitzel – follow the success of v2mince, v2burger and v2sausage.
Australia is a "chicken-loving" country, ranking 5th globally by the volume of chicken we eat per capita. Developing a "chicken-like" product, says v2food, was, therefore, the natural next step for the business.
"Our mission is to help the global population live more sustainably by providing plant-based products, so a great tasting, easy to cook chicken range was always on the cards for v2food," says v2food founder and CEO Nick Hazell.
"We know Aussies love chicken – in fact, data shows that we eat an average of 45 kilos of poultry per year. If you wanted to visualise just how much that is, it's about the equivalent of 2250 chicken nuggets a year, per person."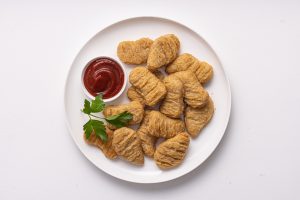 v2nuggets, v2schnitzel and v2tenders are Australian made from soy. They are claimed to have no artificial colours or flavours and are said to be non-GMO.
The new products are promoted as having "all the juiciness, texture and flavour" of chicken and are "ready to cook and use in all your favourite recipes".
Open to buying plant-based
According to recent data, Mr Hazell says 63% of Australians are now open to buying plant-based meat as long as it tastes good.
"In order to make a real difference to our planet, we need to create delicious, sustainable alternatives of the foods we love to make the switch easy and tasty for meat lovers," he says.
"We are thrilled to unveil our delicious plant-based chicken products for everyone to enjoy."
Celebrating the launch
To celebrate the launch of the plant-based chicken range, v2food's food truck will be making a road trip up the east coast between 18 and 25 March. This will give Australians the opportunity to have an exclusive first taste of the v2tenders and v2schnitzel.
Starting at Melbourne Street Eatz Festival, then off to the hometown of v2's factory in Wodonga Square, the truck will pop up in Canberra, Sydney, Newcastle and finish off with a final event in Byron Bay. The final stop in Byron Bay will be dependent on weather conditions, and the v2 team hopes to bring some joy back to locals in the near future.
Availability
The v2tenders (six-pack) and v2schnitzel (two-pack) have a RRP of $8. Both products will be available to consumers in early May.
v2nuggets will be available exclusively through foodservice in the coming months.