South Australian chocolatier Menz is extending its Easter offerings with the addition of a number of new products to both the Violet Crumble and FruChocs ranges.
In 2022, Menz is "shaking things up" with its new Violet Crumble and FruChocs Shake Me Eggs.
The new Violet Crumble Shake Me Egg gives you "double the shatter". This new 150g milk chocolate egg contains "crisp" honeycomb pieces in the shell and chocolate-coated Violet Crumble Nuggets inside.
The FruChocs Shake Me Egg contains FruChocs within the shell and whole FruChocs inside for a "gift that keeps giving".
In addition to the Shake Me eggs, FruChocs is welcoming the new 100g Mini Gooey Eggs that feature a "creamy, gooey", peach and apricot creme filled centre with a milk chocolate shell.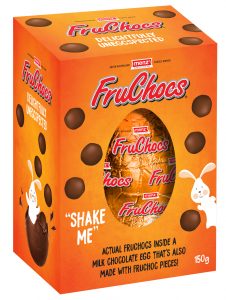 Violet Crumble enthusiasts will also be thrilled, says Menz, to learn the "famed' honeycomb and milk chocolate will be available as a milk bunny or caramel bunny. Or there's a 1kg Violet Crumble hollow egg available exclusively at Costco.
And promoted as "perfect for your egg hunt" are the new Violet Crumble Solid Mini Eggs.
"Easter is always a great way for us to introduce new and fun ways for chocolate fans to enjoy our treats," says Menz CEO Phil Sims, "so we love to offer new additions to the range for everyone to experience."
Alongside these new additions, the Menz Easter collection will see existing favourites also return to shelves. Nationwide consumers will be able to enjoy Violet Crumble's 110g hollow egg and 170g gift box featuring a 110g hollow egg and two bunnies. In South Australia, FruChocs lovers can purchase a 50g or 110g hollow egg as well as the new Mini Gooey Egg and Shake Me Egg.