Ben & Jerry & # 39; s is running its own Easter hunt with 50,000 free ice cream scoops.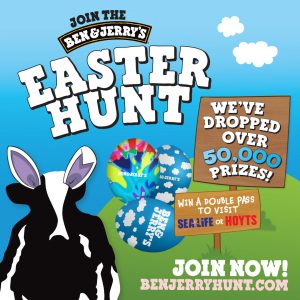 The brand has partnered with digital platform BlockV to bring Australians a new, novel dining experience this Easter with what is believed to be the biggest virtual Easter hunt ever seen.
The BlockV platform was launched yesterday (Thursday 18th) and turns static objects into dynamic "virtual ice cream" that users can physically "catch" on their phone and convert into a "delicious ball of delicious chunks and swirls". Scoops will be hidden near Ben & Jerry's Scoop stores across the country.
Customers can sign up with Ben & Jerry to sign up for Ben & Jerry's Easter hunt. All caught "eggs" – called "Vatoms" on BlockV – are automatically converted into a virtual wallet, which can then be redeemed in a Ben & Jerry Scoop Store.
The free orbs are only available for a limited time until April 6th.