You picked the perfect patio furniture, invested in landscaping, and even upgraded your outdoor kitchen, but your yard doesn't feel entirely complete. Adding accent lighting outdoors is the finishing touch you are looking for!
Photos by: Freepik
Illuminating sidewalks and highlighting unique features with the right outdoor lighting is the ideal way to beautify any outdoor space. Find out more about choosing the perfect lighting for your garden oasis.
How can landscape lighting improve your garden?
Backyards are great for afternoon family barbecues or a dinner party with friends. With outdoor accent lighting, you can set the mood for a perfect entertainment space and keep the party going after sunset. Proper lighting complements the unique features of your backyard. If you've installed a water fountain, pergola, or ivy-covered arbor, you and your guests can enjoy them at any time of the day.
A welcoming backyard oasis can potentially have more than one area to relax, entertain, or play. Maybe you have a dining area on the deck, a fire pit near the tree line, or a bistro table in the garden. Without the right lighting, these rooms can only be used in daylight. Stairway lighting and path lights help friends and family members safely where they need to go, and they can also serve as an invitation for them to freely enter different areas of the backyard.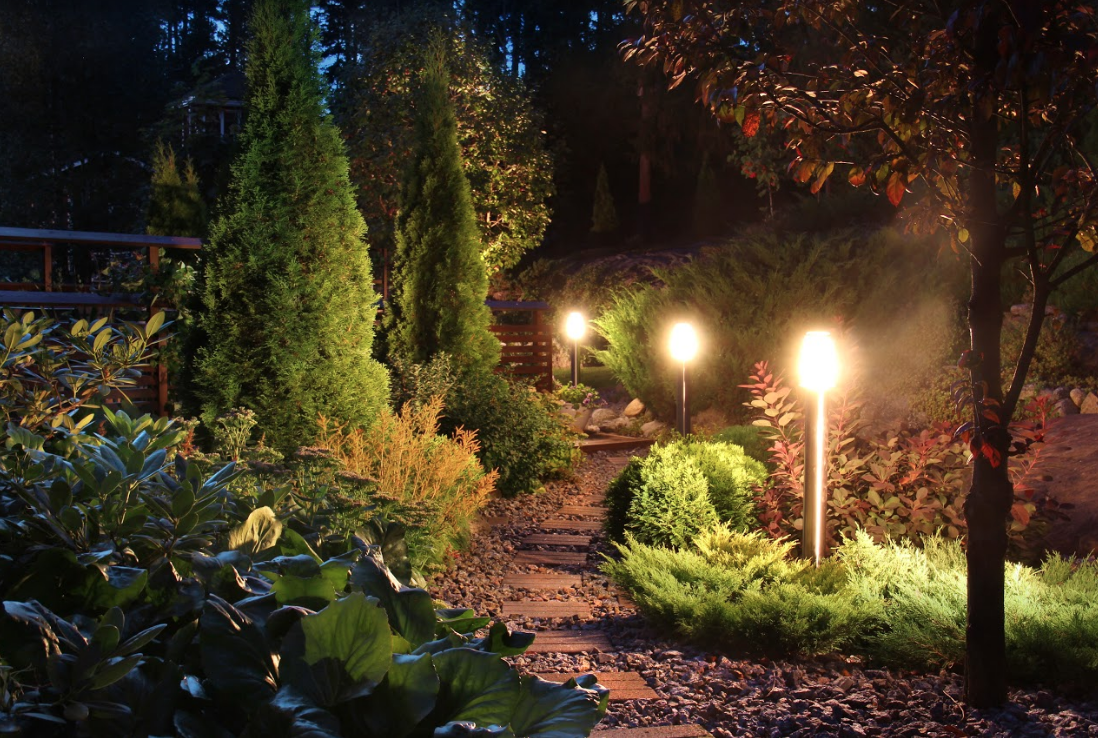 Backyard lighting ideas
Outdoor accent lighting isn't just limited to spotlights and street lighting. There are many different ways to highlight and define the unique spaces in your garden.
Backyard lighting options include:
Accent lighting– Highlight the unique details of your backyard with accent lighting. Soft spotlights can enhance the beauty of your trees and flower beds, while the capstone lighting reveals the beautiful architectural details of your patio.
Fire pit lights– Illuminating your fireplace provides extra security and enhances the beauty of the flames. Proper lighting entices guests to gather around the seating area of ​​the fire pit, even when there is no fire!
Deck lighting– Beautify and improve the safety of your deck by installing deck lighting. You and your guests will love spending time on the deck, having dinner, a drink or gazing at the stars with the perfect under-cabinet lights.
Pool and spa lighting– Cool parties don't have to stop when the sun goes down. With colored lighting options you can upgrade your pool or wellness area for even more fun after dark!
Bistro lights– Classic and elegant bistro lights are perfect for pergolas and dining areas where more light is needed.
Tiki lights– Tiki lights create a pleasant ambience for summer engagements and keep pests away. Set the mood for summer entertainment or a perfect relaxed evening.
Uplights– Illuminate the specifics of your backyard with simple, elegant and modern lights. These lights add expression and depth to the landscape and area to highlight trees or architectural features.
Transform your outdoor spaces with a colored lighting system
Classic white lighting sets an elegant tone for any occasion, but with a touch of color you can change the whole look and feel of your space. Full-color outdoor lighting can transform your garden from simply grilling to a patriotic soiree with the push of a button. Full color lighting options offer a wide range of bright hues when the occasion calls for the perfect match day orange or shamrock green. Wi-Fi enabled full color lighting can be changed with the push of a button or planned in advance.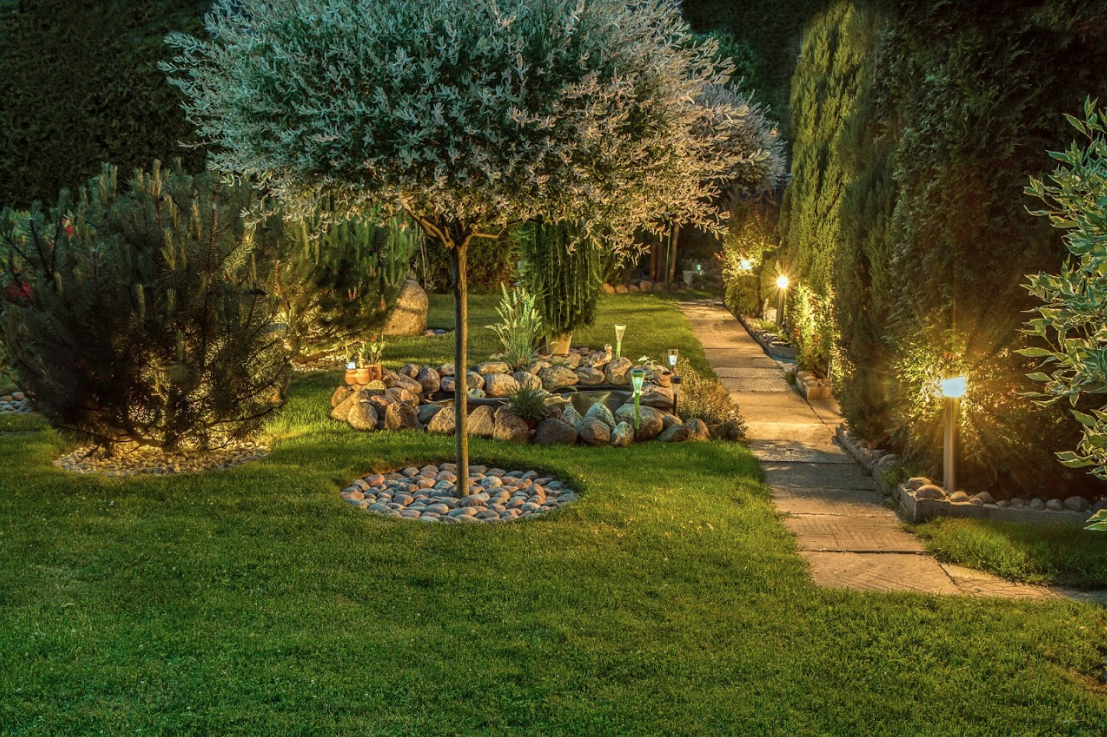 What should be considered when shopping for backyard lighting?
There are many landscape lighting options on the market today. Before you go to the hardware store, think about which features are most important to you. LED lighting lasts longer than normal light bulbs and saves electricity costs over time. By selecting a lighting system with a smartphone app and integrating it into your existing smart home functions, you can control your lighting from anywhere at the touch of a button.
Use lighting to create a backyard oasis
When the sun goes down, bring your garden oasis to life. With the right outdoor lighting, you can set the mood with classic white or a color option that matches the mood of the event and ensure guests are safe when they move around your yard. They can also highlight the features you carefully selected, from fire pits to koi ponds. Enhance your inviting outdoor area with accent lighting and enjoy your time with friends and family in the morning, noon and evening.
Author bio:
Chris McCoy is the founder of Haven Lighting. Haven Lighting is a leading manufacturer of intelligent Wi-Fi enabled landscape lighting systems with unique LED products with unparalleled brightness, vivid color and white temperature adjustment.