Chatswood Chase Sydney has been committed to bringing the best Australian and international fashion, homewares, lifestyle and department stores and experiences to its customers for the past 40 years.
In a nod to blending past and future, Chatswood Chase has announced the return of second-generation family-owned and operated gourmet grocer, Losurdo's, as the anchor for its new fresh food and dining development, Chase Market.
Losurdo's first joined Chatswood Chase when it opened it 1983 under then owner, the late Domenic LoSurdo. In 2001 when Domenic retired, his Chatswood Chase business sold. Today, Losurdo's will return under the leadership of Domenic's son, Robert, offering the best locally sourced premium produce, groceries, baked goods, and gourmet deli options they have built a long standing and trusted reputation for.
Owner Robert LoSurdo says, "I'm delighted to be bringing the best fresh food to the Chatswood Chase community and continue the LoSurdo family legacy. Our commitment to always sourcing our produce directly from the very best growers, farmers and local providores hasn't changed and we can't wait to meet our customers' needs in our new concept store after 22 years."
Vicinity Regional General Manager Development Mark Kelley says, "We look forward to bringing the future of retail hospitality, dining and taste to Chatswood Chase with the new Chase Market development offering a one-of-a-kind experience to our loyal local community.
"The new Chase Market will allow customers to experience a theatrical style food and beverage market and premium dining experience, with an ambience designed to thrill, entice and delight in its architecture and interior design."
LoSurdo's is expected to be operating by Christmas 2023 as part of the first phase of the redevelopment of Chatswood Chase, currently in construction. Once complete, Chase Market will be home to over 40 new restaurants, cafes and fresh food experiences and will be located on the lower Ground Floor.
Chatswood Chase's rich 40-year legacy is being celebrated over 40 days from 1 June – 9 July with an exhibition featuring a curated edit of historical images highlighting memorable moments and iconic images over the past 40 years. Online competitions with a prize pool of $4K and an in-centre shopping incentive offering a gift with purchase promotion.
Chatswood Chase, Sydney opening day on 22 March, 1983.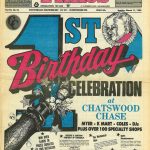 Chatswood Chase, Sydney's first birthday.