If you are thinking about turning your home into a smart home, the pet robot is something you should consider purchasing!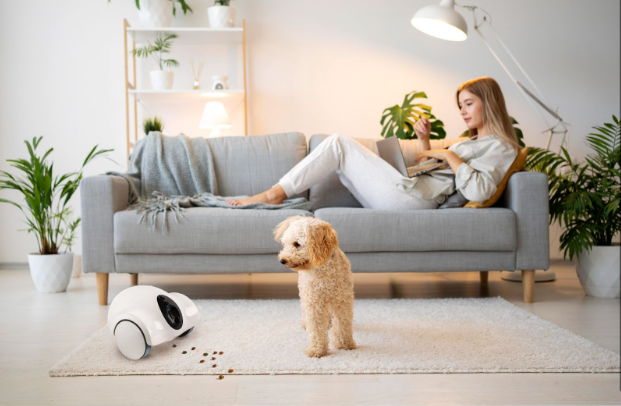 Welcome to the future! It's the year 2023, and technology has advanced beyond our wildest dreams. Today, we bring you a groundbreaking report on the latest development in pet care – the Pet Companion Robot.
As the world becomes more and more connected, so too does our relationship with our furry friends. The Pet Companion Robot is the ultimate tool for pet owners who want to create a lifestyle they love, while still providing the best care for their pets.
The GULIGULI Pet Companion Robot is not just a pet monitor, it's a complete remote entertainment system for your pet. With a movable 1080P Full HD camera, you can view your pet from anywhere, at any time, in crystal clear quality. Whether you're at work or on vacation, you can rest assured that your pet is safe and happy.
But that's not all – the Pet Companion Robot is also a feeding system and all-in-one pet toy. It has a treat dispenser that allows you to release snacks to your pets at any time, through 12 cartridges, so you have plenty of food to reward your dog or cat for good behavior. It also shoots out a red dot laser from the front of the camera so you can entertain your kitten for hours of exercise. You can even mount a feather attachment to the top or anywhere on the device.
What sets the Pet Companion Robot apart from other pet monitoring systems is its advanced features. Equipped with sensors and cameras, it can track your pet's movements, detect changes in behavior, and even monitor your pet's health, providing you with real-time data on your pet's well-being.
For example, the robot can monitor your pet's eating and drinking habits, helping you keep track of their food and water intake. It can also monitor your pet's activity levels, helping you ensure they are getting enough exercise. And if there are any changes in your pet's behavior or health, you will receive alerts through the companion app so you can take action right away.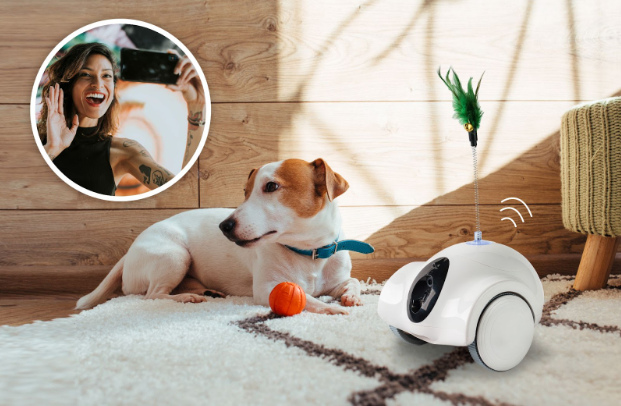 The Pet Companion Robot is incredibly easy to use. Simply download the app and connect it to your robot, and you're ready to go. From the app, you can control the robot's movements, view live video feeds, and receive alerts when your pet's behavior changes or when it detects potential health issues.
But what about safety? The Pet Companion Robot is designed with safety in mind. Its large, sturdy wheels in back combined with 360 degrees rotating wheel in front accomplish a tripod-like design that will easily get over any obstacles in your home – raised carpets, inclines, small items on the floor, etc. This means that your pet can play with the robot without the risk of it falling over or getting stuck.
The Pet Companion Robot is perfect for pet owners who work long hours, travel frequently, or simply want to keep a close eye on their pets. Whether you have a dog, cat, or any other pet, this robot is designed to monitor your pet's activity and behavior, helping you stay connected to your furry friend no matter where you are.
In conclusion, the Pet Companion Robot is a game-changer for pet care. With its advanced features, easy-to-use app, and versatile design, it's the ultimate pet monitoring and entertainment system. It allows pet owners to stay connected with their furry friends no matter where they are, providing real-time data on their pet's well-being and keeping them entertained and engaged. It's also designed with safety in mind, ensuring that pets can play with the robot without any risk of harm.
So if you want to create a lifestyle that you love while still providing the best care for your pets, the Pet Companion Robot is the perfect tool for you. 
Visit their Amazon website today to learn more about this groundbreaking technology and how it can benefit you and your furry friend.