The first new Lenard's franchise store in six years has opened under founder, owner and Director, Lenard Poulter, thanks to a renewed focus to open new franchises across the country.
Lenard's founder, owner and Director, Lenard Poulter.
The iconic handmade chicken company, established in Brisbane in 1987, is planning to launch an extensive franchise recruitment campaign this year with industry leaders, Eden Exchange.
"After 35 years in business, we are venturing into new retail models with our updated 'Lenard's Store' and our new 'Lenard's Rotisserie'," Mr Poulter said.
"Our product offering has expanded from our much-loved ready-to-cook range, to rotisserie chickens, ready-to-heat meals and salads.
"We are ready to find the perfect partners to join us and share the love!," he said.
The new Lenard's store, located in Dubbo, NSW is the first franchise in the region in nine years and has been opened by Dubbo local Lachlan Harris who worked at Lenard's for seven years as a teenager.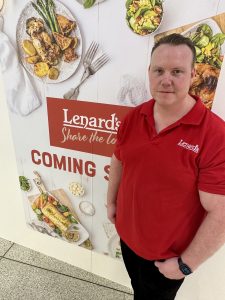 Lenard's Dubbo store owner Lachlan Harris.
"I worked in the Lenard's Dubbo store from when I was 15 to 22 years old," Mr Harris said.
He later re-connected with the brand, taking the leap from accountant to official Lenard's Dubbo store owner alongside his wife Iga.
"I was trying to find recipes for some products online when I saw an advertisement for a Lenard's Dubbo franchisee opportunity," Mr Harris said.
"I'm a Dubbo product, I have lived here almost all of my life. I've been involved in many small businesses in Dubbo, and love the area and the local community," he said.
But what really pushed Mr Harris to return to the Lenard's family was his love for its quality products.
"It's a fantastic product. It's fresh, handmade in store and people value fresh products so much nowadays," he said.
"I am also looking forward to using local products and suppliers wherever available to put business back into the community."
The new Lenard's Dubbo store is located at Shop 24, Dubbo Square, 177 Macquarie St, Dubbo NSW 2830.