Coles is giving customers the chance to earn cookware credits to redeem on free stainless-steel pots and pans by scanning their Flybuys when they spend $20 or more in one transaction from Wednesday, 22 March.
The exclusive seven-piece MasterChef Cookware collection set includes a Utensil Set featuring Spoon and Turner, 20cm Non-stick Fry Pan, 18cm Saucepan with Lid, 26cm Non-stick Fry Pan, 24cm Casserole Pan with Glass Lid, 26cm scratch-resistant Non-stick Sauté Pan with Glass Lid and Helper Handle, and a heavy-duty Non-stick Roaster with Rack.
Coles Executive General Manager for Non-Food Jonathan Torr says the retailer wants to provide customers with more value at the checkout and help make quality kitchen products more accessible to all Australians.
"Many Australians are doing it tough and splurging on quality cookware is not a priority for them right now," he says. "We have an opportunity to provide great value in more ways than just savings at the checkout, which is why we're rewarding our customers with quality cookware to inspire their love and creativity of cooking with sought after kitchen items that are built to last.
"We have now provided over 27 million kitchen items in Australian households – from the very popular MasterChef knives and Schott Zwiesel glassware to KitchenAid ovenware, and we continue to see increased participation and satisfaction each time we run these campaigns."
To help kick start the collection by the time it officially arrives in store, the retailer is offering Flybuys members who have participated in previous loyalty campaigns a two-week head start on collecting credits from today (8 March).
Coles has partnered with 32 household brands to help customers collect the full range of cookware even faster. These brands include Air Wick, Bulla, Coles Finest, Colgate, Continental, Dove, Fancy Feast, Finish, Magnum, Nescafe, Sensodyne and Vanish. They will provide bonus credits across 1400 products, starting from 22 March.
The 'half credits, half pay' method also gives customers the option to use half the credits required and pay the remaining cost of the item.
Backed by Courtney Roulston
Coles Chef Ambassador Courtney Roulston says the MasterChef Cookware range is a fantastic collection of kitchen essentials, perfect for those who are seasoned in the kitchen or who are just starting their culinary journey.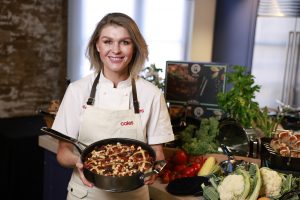 "I have loved using both the stainless steel and non-stick pots and pans," she says. "It's brought me right back to my time in the MasterChef kitchen and has inspired some delicious, easy, family friendly dishes like my easy crispy skin salmon with coconut greens.
"My favourite piece in the range would have to be the Sauté Pan – you can make anything from the perfect sunny side up egg to deep, rich, and flavourful sauces, stews and pastas."
To inspire customers with new meal ideas using the MasterChef Cookware pieces, Coles Magazine is bringing back a "customer favourite", the MasterChef cookware masterclass series, over the next three months. This will feature 12 new recipes including six recipes developed by MS Roulston herself, as well as tips on getting the best use out of the range.
Customers are also encouraged to look out for a QR code on the MasterChef Cookware signage in store, in the Coles catalogue and Coles Magazine to access all content including recipes developed for each piece of the cookware and product and utility information.