Start of construction of Metcash's new Victorian distribution centre was marked today with a smoking ceremony and soil turning event.
Travis Hardman, General Manager – Southern States, Goodman and Doug Jones, CEO Metcash.
The new mega distribution centre at Goodman Group's RBR Hub in Truganina will support close to 4000 stores and premises across Metcash's independent retail network in Victoria.
At almost 115,000sqm, it will be the largest wholesale distribution centre in the country and 25,000sqm larger than Metcash's current facilities at Laverton.
To celebrate ground being broken at the site, a smoking ceremony and Welcome to Country was performed by Bunurong Land Council Aboriginal Corporation. In attendance were local politicians including City of Melton Mayor Lara Carli, Ministers Sarah Connolly and Luba Grigorovitch, key state retailers, and representatives from Metcash and Goodman Group.
Metcash Group CEO Doug Jones says the commencement of construction was a huge milestone for Metcash and its network of independent retailers in Victoria.
"We believe independent family-owned businesses are the backbone of Australia and that 'independents are worth fighting for'. Our network already includes some of the best stores in the world, and this investment represents our long-term commitment to continue supporting them and their local communities in Victoria," Mr Jones said.
"The larger centre will enable Metcash to carry a wider range of products for retailers. The new distribution centre will also house new fit for purpose facilities and amenities, and utilise updated Warehouse Technology such as semi-automated Goods-to-Person and Layer Picking Solutions, which will deliver great efficiencies compared to the current centre at Laverton," he said.
"Our purpose at Metcash is to Champion Successful Independents, and this new distribution centre further strengthens their competitiveness so they can be the best store in their town.
"Our Victorian retailers have performed outstandingly in recent years, and this new DC ultimately helps them better support the local communities in which they operate. Our retailers are the heart and soul of their local communities," Mr Jones said.
The distribution centre at Truganina will also benefit local suppliers by providing an efficient route to market and better access to Metcash's extensive distribution network.
The new distribution centre is expected to be completed in mid-2024.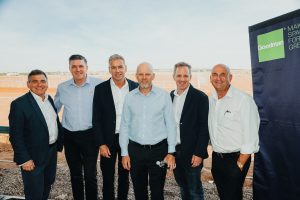 Metcash leadership team and retailers: Alistair Bell, CFO, Tony Ingpen, Scott Marshall – CEO Supermarkets, Jeff Harper, Doug Jones – CEO, Neal Morgan.