Embroidery
is a

relaxing hobby

you can do in the comfort of your home!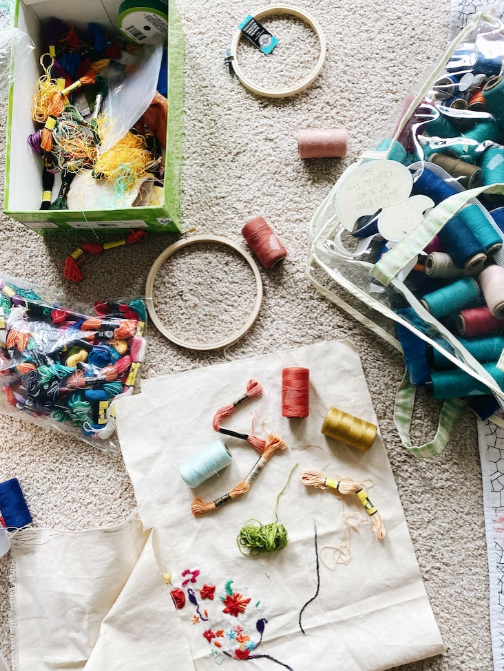 Photos By: Unsplash
Furthermore, playing with colors and designs can give a new glaze to old cushions, clothing and decorative objects. Even though it may seem like an old-fashioned hobby to pursue in your spare time, embroidery has evolved into a real successful trend that is appropriate for people of all ages.
The good news is that you only need one stitch to create lovely crafts. As your confidence and skills grow, you'll be able to quickly learn more stitches, allowing you to create complex artworks and perhaps even sell them online.
Embroidery for Beginners: How to Start
Learn machine embroidery gives you the opportunity to make stunning creations that appear to have been hand-stitched. For beginners, the best way to start embroidering is to buy a kit including color coding and patterns that ensure you will have a stunningly finished work of art.
For this purpose, it will be necessary to rely on websites that offer a wide range of quality embroidery patterns so as to pick the ones that best suit your needs. For instance, you can find countless embroidery designs for your home, for your accessories or for any other kind of decoration on this library on Creative Fabrica which has been organized into categories in order to make it easy to detect the topics and the subjects of your interest. Moreover, every file is available for instant download and also provides sewing instructions, making them helpful for those just starting out in the world of embroidery.
10 Easy Embroidery Ideas
Here 10 ideas for your embroidery art crafts that are a good start for this hobby and a way to learn new stitches.
Simple Daisy
This design is made up of lazy daisy stitches that alternate between different shades of the same color; you can use any color for the petals or for the tiny leaves at the bottom, but the yellow and green tones of the daisy will look especially lovely.
Modern Flower
With this one stitch embroidery pattern, you can create a beautiful floral design enhanced by the color gradation. Split stitches are necessary to complete the pattern for the modern flower.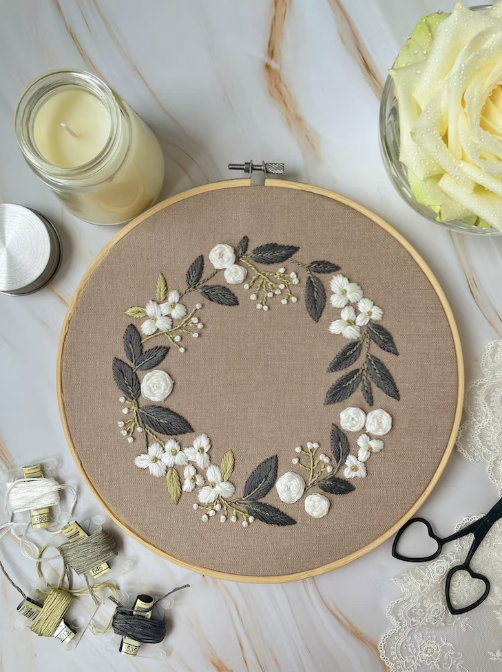 Cute Dogs
Adorable little dachshunds dressed in soft sweaters are a good idea for beginners practicing just a few stitches if you're looking for a cute pattern, ideal to decorate cushions, blankets, and shirts.
Baby Dinosaur
You can use embroidery designs to make your child happy. Children of all ages adore dinosaurs, and using a pattern with easy stitches helps you to make a simple one in little time.
Mandala Style Flower
Without a doubt, embroidery can help you to relax, particularly if you create designs like mandalas, a spiritual and ceremonial symbol found in Asian cultures. You can select from a variety of flowers and an infinite number of color combinations, according to what your imagination suggests.
Mushrooms
When autumn comes, mushrooms become a good idea for embroidery projects. You can create easy outline stitches or colonial knots, using a single plain stitch or having fun with fill stitching. The best colors for mushrooms are natural earth tones, but you can also choose your favorite color scheme or stitching that is all one color.
Applique Designs
An alternative to the traditional embroidery is the appliquéing designs for machine: they feel and look fantastic and very easy to sew because they are made up of small pieces of fabric. You can select the type of fabrics, patterns and size to create enjoyable artworks that are incredibly customizable.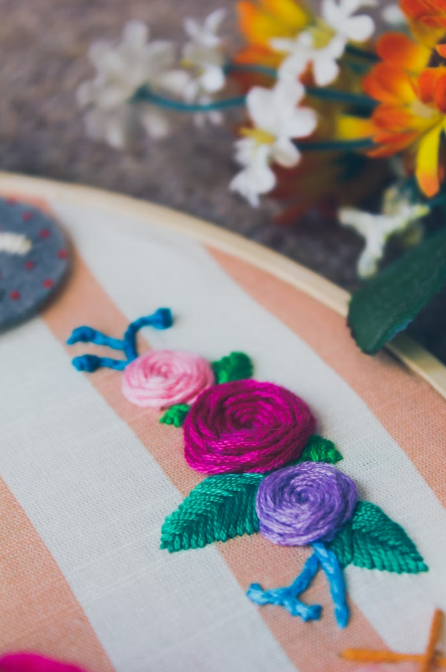 Give a New Breath to a White Shirt
Everybody owns a plain white shirt. It can be made more appealing and funnier by embroidering it. Depending on your preferences and level of sewing skill, you can select from a wide variety of embroidery designs, such as flowers, geometric patterns, letters to give a customized twist to your clothes.
Monogram Towels
Due to the fact that they don't stretch or sag during the embroidery process, towels make a good support on which to start embroidering. Sewing a monogram or selecting an embroidery design with a reasonable stitch density is a good idea for a first embroidery project.
Freestanding Lace Designs
A surprisingly easy machine embroidery idea is to learn freestanding lace design. On some fabrics, especially those with open weaves, using a stabilizer can be incredibly helpful and a quick way to complete art crafts like Christmas ornaments, a great beginner machine embroidery idea.