Cutting-edge home cooks and classically trained chefs alike can agree on one thing — today's kitchen looks a lot different than it used to!
From high-tech kitchen appliances that track the fridge's inventory and can be controlled via your smartphone to chic colored ovens with a retro flair, contemporary cook spaces are a recipe made of equal parts technology and style. If you're the kind of home cook who likes to integrate techy gadgets and high-tech helpers into your living space, you're going to need a few of these brilliant inventions. Here are a few of our favorite modern kitchen must-haves for your consideration.
Photos By: Shutterstock
Boiling with Ease: A Pot-Filler — This is one kitchen innovation that's guaranteed to impress your Italian grandparents! These dedicated faucets are installed behind the range to provide easy access to water for boiling, steaming and more. Because who wants to carry a heavy pot of water all the way across the kitchen? They're typically designed to extend out so they sit neatly against the wall when not in use.
Countertop Cooktop: A Dedicated Range — Traditional kitchen ranges tend to feature an oven and a cooktop built into a single unit, but these days, you see more and more kitchen designers opting for dedicated countertop burners (called "rangetops" or "drop-in cooktops") that separate the two units from one another.  There are a few benefits to separating these units — they allow you to set your kitchen up in the exact configuration you want and can help save under-counter storage space.
No Cold Meals: A Warming Drawer — A must-have for the modern host or hostess, warming drawers are amazing kitchen appliances designed to keep your food warm for longer. Perfect for big Thanksgiving dinners and all-day potlucks, these appliances are more efficient than ovens and won't dry out your food like a microwave or toaster oven would. Plus, they do more than just warm up casseroles! You can use them to defrost frozen food and even to help proof bread dough quicker.
Clean Hands, Clean Knobs: Touchless Faucets — How many times have you had to awkwardly flip the faucet with your wrist after dirtying your hands mixing meatballs or kneading bread? It's a chef power move! These days, there are plenty of brilliant new faucet designs that eliminate the touching all together. From touchless sensor designs to foot-operated faucets with pedals tucked beneath the countertop, there are tons of new styles that can turn the water on and off without the need for contact.
Remote Gourmet: Wi-Fi-Enabled Appliances — By now you've probably seen plenty of "smart" appliances popping up in kitchen design showrooms. These are high-tech kitchen units that connect to your Wi-Fi or Bluetooth so you can control them remotely and manage them from your smartphone. For example, some smart ovens can be preheated via an app on your phone. There are even refrigerators with interior cameras that let you view inside your fridge from the dairy aisle at the grocery store to double check whether you need to restock a certain item or not.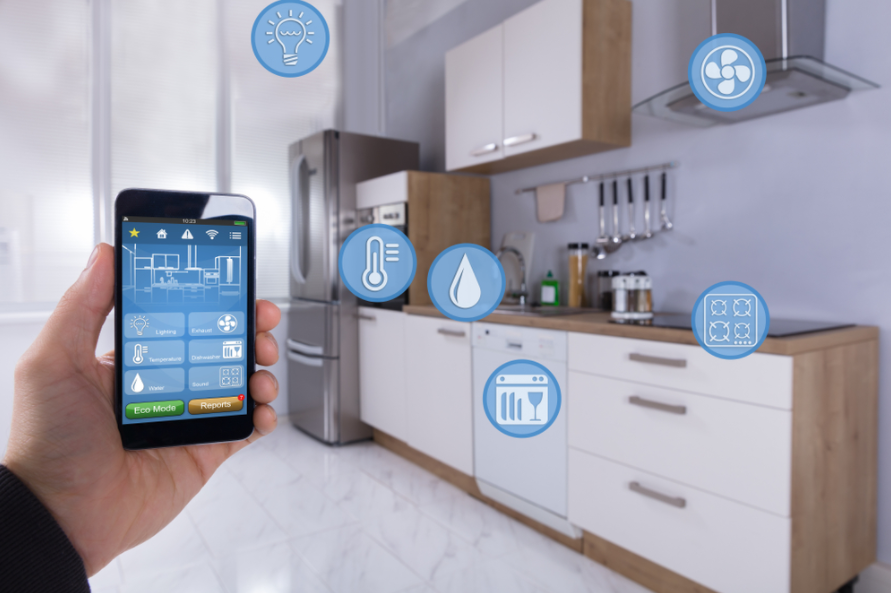 Cheers to Chilling: A Wine Fridge — Wine coolers are versatile chilling staples that are essential for entertainers as well as beer and wine aficionados. They help keep reds and whites at their optimal temperature, of course, but wine fridges aren't just for oenophiles. These pint-sized cooling units also store beer, hard seltzers and even sodas, depending on the unit. If you want to safely stash reds, whites and beer, make sure to choose a style with separate cooling zones to keep everything at its ideal temp. Want to save big with a wine cooler? Consider bundling appliances with kitchen appliance packages that can save you big bucks when compared with buying each appliance individually.
Summer Day Staple: A Dedicated Ice-Maker — If you live in a hot climate or love to throw big parties with overflowing coolers on the patio, you're going to want to consider investing in a high-volume home ice-maker. These convenient units can pump out tons of buckets in a short period of time, saving you plenty of gas station runs when it's hot out.
Colorful Cooking: Colored Ranges and Fridges — These days, there are more finish options on the market than stainless steel and slate. Peruse any high-end home design magazine and you'll see plenty of colorful kitchen appliances adding a pop of personality to high-end kitchens. From chic blue and red to retro teals and oranges, it's trendy to give your cooking space a bit of style through colors. You'll also notice that many of these bright, modern appliances have commercial- and retro-inspired finishing touches, making them a very classic yet fresh addition.
The Hub of the Hub: A Smart Speaker — If you're looking for a simple way to make your kitchen more high-tech without swapping out large appliances, consider equipping it with a smart home system, such as a Google Home, Amazon Echo or Apple HomePod. Not only do these devices serve as voice-activated speakers to set your cool cooking soundtrack, but they'll also read you recipes, set your timer and tell you how many tablespoons are in a quarter cup (hint: it's four).
Brilliant Lighting: Smart Lights That Do It All — Smart lighting is another simple tool that gives your space a high-tech enhancement without a huge spend. Ringing up for under $25 each, these brilliant (pun intended) bulbs screw into your normal bulb sockets but link up with Bluetooth, so you can control them via your voice. This is especially handy when you're carrying in two bags full of groceries after dark or when your hands are dirty and you need to up the dimmer.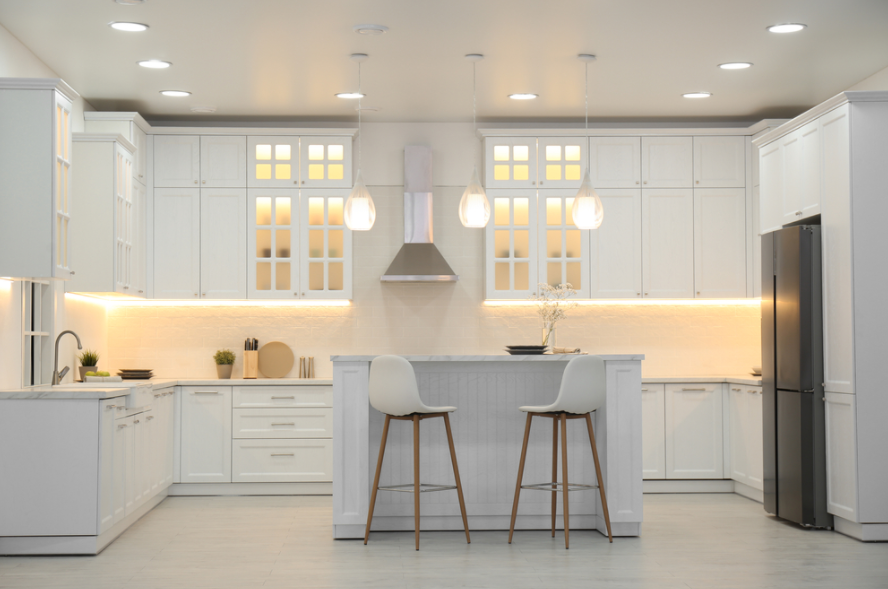 For the modern chef, outfitting the kitchen is about finding ways to simplify tasks and make the cooking and hosting processes easier and more streamlined. With top-of-the-line new appliances and gadgets that integrate the best tech, you'll be able to transform the most popular room in the home into a smart home hub that works for you.