Thankyou has announced the "reimagining" of its current personal care products along with its launch into the home cleaning category.
The personal care range features "reimagined" versions of the "cult favourite" Thankyou hand wash and body wash, nourishing and exfoliating body bars, and a new 48hr antiperspirant deodorant.
While Thankyou's signature plastic bottles will still be available, relaunched with bottles made from 98% recycled plastic, Thankyou has also launched a new line of "super sleek" refillable Forever Bottles made from recycled aluminium and refill containers made from 100% HDPE recycled materials.
"The 100% recycled, infinitely recyclable aluminium Forever Bottles can be filled with Thankyou's ethically made products, allowing customers to significantly reduce their household waste and environmental impact, all while supporting the Thankyou mission of eradicating global poverty," says the brand.
Home cleaning
Entering the home cleaning category for the first time, Thankyou says it has decided to create a cleaning product that "outstripped" competitors in its versatility, affordability and design.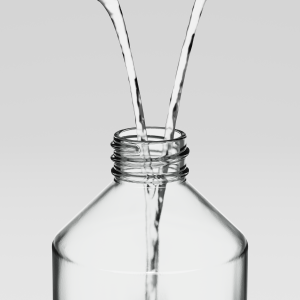 "The 100% Natural Universal Cleaner – formulated for use on glass, tile, stone and other household surfaces – can be diluted to different degrees depending on its use, with the price point per 100ml for the diluted solution averaging at 33¢, as opposed to the average among other cleaning brands of $1.08," says the brand.
The hospital grade disinfectant Australian made formula – which contains an active plant-based lactic acid – has been certified to kill 99.99% of germs and is claimed to be effective at eradicating grease, stains and odours. It's said to be "remarkably free" from harsh chemicals, too.
The new offering is available Fragrance Free (no allergens) or scented with Botanical Grapefruit. It's also available with the refillable Forever Bottles.
Complimenting Thankyou's Universal Cleaner are microfibre cloths. The 30cm x 30cm microfibre cloths are promoted as washable and reusable, made using recycled plastic fabric. They are available in "tastefully" muted greys, with "discrete" Thankyou labels on the side indicating the surface for which they are most suitable.
Availability
This week, products will begin to appear on the shelves of major retailers including Coles, Woolworths, independent grocers, Chemist Warehouse, and Big W.
The entire range will also be available to purchase from Thankyou's brand-new e-commerce site launching early next month.