Fine Food Australia made its return last week (5-8 September), bringing more than 670 Australian and international exhibitors to the Melbourne Convention and Exhibition Centre.
Promoted as the biggest food trade event in the Southern Hemisphere, the event showcased the best in food, beverages, bakery, packaging and technology.
Over 100 food experts, industry masters, baristas and chefs also took to the various stages for presentations and demonstrations.
"It was amazing to be back in Melbourne this year hosting the ultimate food trade event, in order to inspire, educate and unite this incredible industry, which is the backbone of our culture and communities," says Fine Food Australia Product and Event Manager Andrew Lawson.
This year, Fine Food Australia announced the Victorian government as a strategic partner of the event for the first time, backing it through its Made in Victoria campaign, which celebrates Victoria as a national leader in food production and manufacturing. The industry support didn't stop here, though.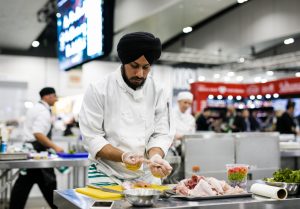 "Fine Food Australia is the only industry event supported by all key industry associations including Austrade, Australian Culinary Federation, Australian Food Service Advocacy Body, Food Service Suppliers Association of Australia, National Association of Food Equipment Suppliers, Straight to the Source, and the Restaurant & Catering Association," adds Mr Lawson.
"We are proud to be supported be all the key industry bodies and associations and will continue to showcase the latest our partners have to offer, while also providing education and insight from industry leaders through activations and presentations. Whether you have a well-established business or are a start-up, there is something for everyone at every event."
Celebrating innovation
The annual Innovation Awards recognised the most innovative products in the Australian marketplace.
"The calibre of entrants this year for the Innovation Awards was incredible," says Mr Lawson. "All the nominees were phenomenal, but what really set the winners apart were products that were very unique displaying a high level of innovation."
Winners were announced across the categories of foodservice, retail, hospitality and bakery.
The best retail products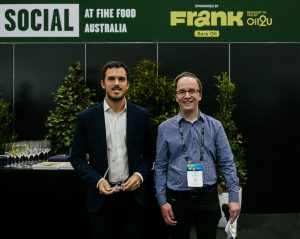 Mamma Emma Marketing Manager Alberto Bianco and Retail World Deputy Editor Nicholas Rider.
From over 300 products, the triumphant retail product, judged by the Retail World team, was Mamma Emma's Gluten Free Potato Gnocchi with Pea Flour.
The winning gnocchi is made with steamed fresh potatoes (rather than potato flakes) and a pea flour, which offers a "very unique" taste and a "rich" source of protein. The product contains no gluten (appealing to celiacs) and eggs (appealing to vegans), and is claimed to be 100% natural, and GMO free.
The product is also said to be made using energy from renewable sources, and can be cooked directly in a pan (without boiling water) in three minutes.
"We are very excited about winning this award because it testifies that, once again, we have been able to create a great-tasting product that also meets the needs of modern Australian consumers," Mamma Emma Marketing Manager Alberto Bianco tells Retail World.
The product will shortly launch onto the Australian market through distributor Raw Materials.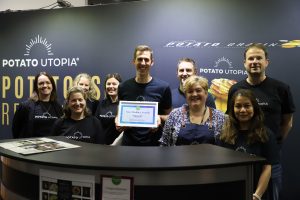 The Potato Utopia team.
"As an Italian company, it's reassuring to know that we can rely on a local partner like Raw Materials…," says Mr Bianco. "Not only can (they) ensure the nationwide distribution of our products but (they've) also played a key role in the development of the gluten-free gnocchi range by helping us to understand how to adapt it to the Australian requirements."
The two runners-up were Potato Utopia's Four Cheese Gratin and Seadrift Distillery's Wild Hibiscus non-alcoholic gin.
Providing a "restaurant quality" experience at home, Potato Utopia's Four Cheese Gratin features layers of potato bound together by cream, and four decadent cheeses. The frozen product is now available at Woolworths.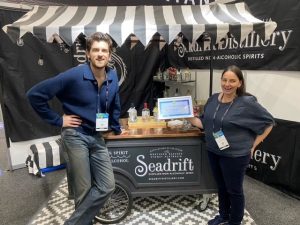 The Seadrift Distillery team.
On the other hand, Seadrift Distillery's Wild Hibiscus addresses the rising non-alcoholic trend. The pink coastal 'gin' is distilled from juniper berries, fresh basil, rosemary and is infused with wild hibiscus flowers. As well as containing no alcohol, the product is also promoted as being "ultra-low" in calories, and is made from fresh, locally sourced ingredients.
Other winners
Foodservice: Clorox Australia – Glad to be Green.
Hospitality: UNOX – SPEEDX.
Bakery: Heuch Fresh – Weber Cooling.