Arnott's has introduced a new range of some of the country's "favourite" biscuits with 50% less sugar.
The 50% Less Sugar range launches with Scotch Finger and Shortbread Cream, promoted as "two iconic biscuits that have the Arnott's taste you know and love, now with half the sugar".
The launch is a "welcome addition" to the pantries of Australian consumers, says Arnott's. New research conducted by the company reveals close to one in three Australian respondents are looking to limit their sugar intake. Taste, however, remains a key consideration – 60% surveyed would buy a better-for-you version if it tasted the same as the original.
"We've been listening to what consumers are asking for; one of the ongoing requests is for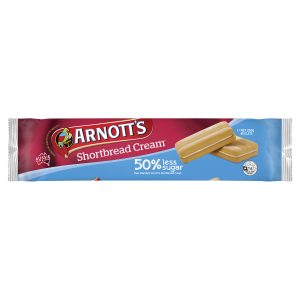 Arnott's to offer more options that suit their specific dietary needs," says Arnott's Marketing Manager Pauline Mercier.
"Our dedicated bakers have spent more than a year perfecting the reduced sugar versions of some of our beloved biscuits and we are confident they've got the same great taste as their originals."
The new biscuits use a naturally occurring sweetener like monk fruit extract. This, says Arnott's, ensures they taste "just as sweet and delicious" despite the 50% reduction in sugar.
The Shortbread Cream biscuits also use another "touch" of a sugar substitute, maltitol, which Arnott's says helps the cream filling stay creamy and sweet like the original.
The Arnott's 50% Less Sugar range is now available at all major grocery stores, retailing for $4.70. It follows the launch of Arnott's glute-free range in 2021.