Deliveroo has partnered with Magnum and Ben & Jerry's to serve up limited-edition ice cream kits.
To celebrate this year's National Ice Cream Day, Australians can take their pick from The Chocolate Classic Hits Kit from Magnum or The Dough-lightful Kit from Ben & Jerry's. The kits will be available exclusively via the Deliveroo platform between 15 and 22 July.
"For ones who are looking for extra chocolate-y indulgence, look no further," says the delivery platform. "Deliveroo is serving up the The Chocolate Classic Hits Kit with free Magnum Classic Bites to add to every tub of Magnum Classic Pint Ice Cream ordered.
"Or, if you're keen to grab a moment of peace, love and ice cream, The Dough-lightful Kit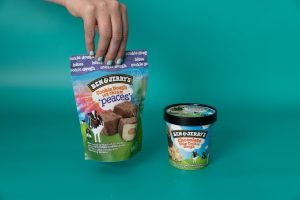 contains bite-sized morsels of ice cream euphoria with free Ben & Jerry's Cookie Dough pieces with every order of its famous tub of Ben & Jerry Chocolate Chip Cookie Dough Pint Ice Cream."
Deliveroo Head Of Marketing Laura Wilson adds: "This National Ice Cream Day, we're thrilled to be partnering with Ben & Jerry's and Magnum to bring Australians two limited-edition kits that we're sure will delight them.
"We have selected two much-loved classics to be matched with a complementary new product on us, so ice cream fans can double the indulgence for a single price."
Customers can get their hands on the ice cream kits by searching 'Ben & Jerry's and Magnum Store' on Deliveroo between 15 and 22 July.
Other collabs
Last month, Deliveroo, in partnership with MasterChef Australia, delivered an "Australian first" integration campaign via Mediabrands Content Studio.
The collaboration saw Deliveroo serve up 21,504 mini Bacon Me Go Nuts choc-tops, inspired by an episode of MasterChef.