Mojo Beverages has presented a re-branding that should reflect the "innovative" role of the brand in the market.
According to the South Australian-based brand, the makeover also recognizes the modern consumer and shows the differences in mojo.
Mojo's new mantra, "Actually Naturally", is a brand statement that is reflected in all of its products. The brand says this reaffirms its commitment to being an authentically fermented, organic, low-sugar kombucha that is free of "sneaky" sweeteners.
The rebranding also makes Mojo's product ranges "future-proof" with a "stronger" visual identity. This includes packaging, website and social presence, as well as the introduction of a "considered suite of vibrant graphics and bold colors".
"After more than 10 years in the market, Mojo is still innovating the Kombucha category in a way that reflects our values ​​and our new branding reflects that," said Anthony Crabb, Co-Founder and CEO of Mojo Beverages.
"We pride ourselves on following a traditional and well thought out fermentation method and avoiding short cuts, and this is what sets our Kombucha apart from other functional beverages on the market.
"We wanted to communicate this difference from Mojo visually, with packaging that is as unique and lively as the inside of the bottle."
New product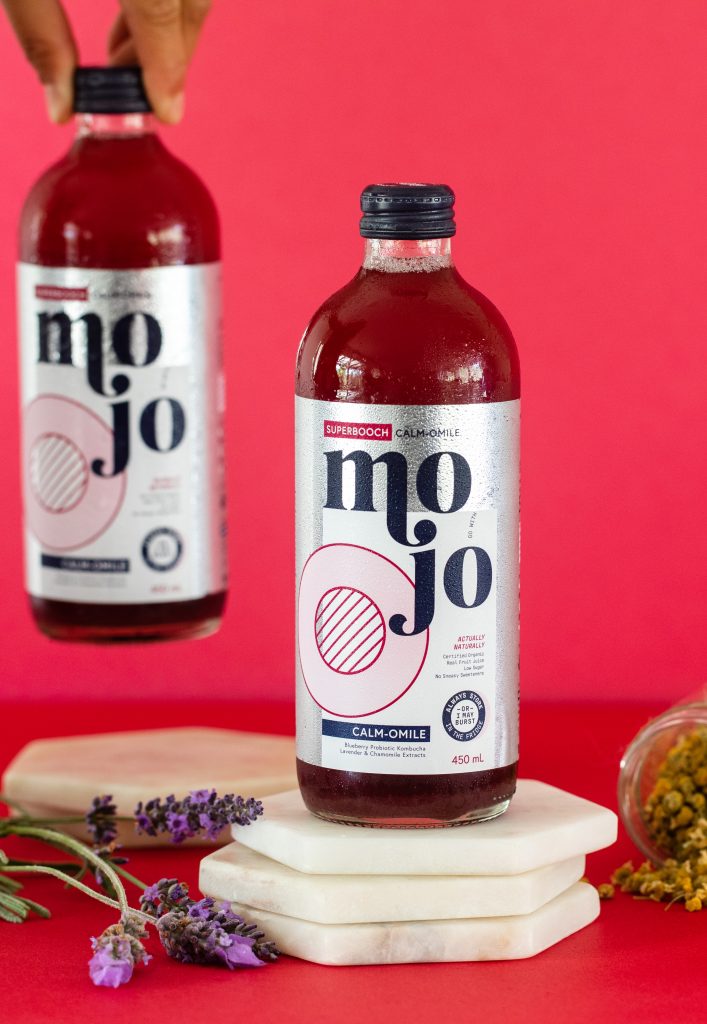 At the same time as the name was changed, Mojo launched a new kombucha drink, Superbooch.
In response to emerging consumer trends, Superbooch is available in two "carefully crafted" flavors, Calm-Omile and Green Gut Guru.
The Calm Omile variant is formulated in such a way that it brings people into their "Zen zone". It combines a "premium" blueberry kombucha with lavender and chamomile extracts. The mixture is traditionally intended to be used for relaxation and recreation.
Green Gut Guru combines probiotics and prebiotics to create the "ultimate gut-loving kombucha". The combination of Mojo's "Premium" Kombucha with apple juice, spinach and spirulina gives this product a "crunchy, tart" taste that is advertised as a "convenient alternative" to fresh juice or a green smoothie.
The new Superbooch range is available in Woolworths stores nationwide at an MSRP of $ 4.30.