Mars Wrigley is investing $ 30 million in the Ballarat factory to bolster local manufacturing.
Mars Wrigley Australia has announced that it will invest $ 30 million in its Ballarat factory over the 2021-22 period to further expand its local manufacturing capabilities and future-proof its Australian operations.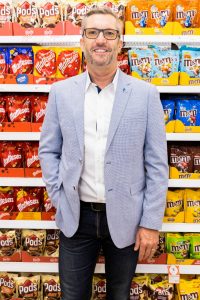 Mars Wrigley Australia General Manager Andrew Leakey.
The new investment will serve to further expand Mars Wrigley's local chocolate manufacturing capabilities by allowing the manufacturer to introduce more variants to its chocolate tablet line, including the new Mars Raspberry Smash, available from major retailers nationwide.
It will also enable Mars Wrigley to introduce asset enhancements and additions to both the M&M and Pods lines. Mars Wrigley's Ballarat factory is the only manufacturing facility in the world that makes pods, and these device upgrades will allow the company to continue manufacturing and distributing the product across Australia.
The investment will also introduce a new packaging line for Malteser to enable higher production volumes and increased export opportunities to growth markets across Asia during the high season.
Andrew Leakey, General Manager of Mars Wrigley Australia, said: "Although the majority of our products are made in Australia today, our goal is to have more of our products made here in the future. The new A $ 30 million investment in our Ballarat facility will support our ambitions by enhancing our onshore manufacturing technologies and capabilities to ensure our Australian business remains globally competitive. "
"As one of Australia's largest manufacturers, we recognize that we play an important role in future-proofing not only our business, but also the food and beverage industry. The new technological advances at our Ballarat facility from this latest round of investments will feed into our ongoing commitment to training our employees and building a robust talent pipeline. "