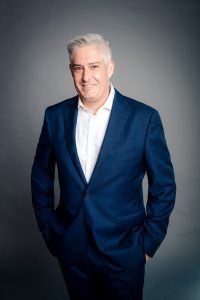 James McKew
Can robots be programmed to take over when people are tired?
By Universal Robots Asia Pacific Regional Director James McKew.
A study by researchers at Texas A&M University fascinates manufacturers around the world.
This unique study focuses on collaborative robots (cobots). As the name suggests, a cobot is intended for direct human-robot interaction in a shared space.
The study examines human-robot collaboration in the manufacturing sector and delves into the fight against fatigue through autonomy. The goal is to understand how specific human factors such as fatigue and confidence interact with each other to ensure that the design of a cobot takes into account the behavior and needs of the operator.
It is intended to clearly define the roles of humans and robots that live harmoniously today in today's fast-paced manufacturing environment. According to TechiLive (2021), "humans and robots could share some of the same goals and production spaces as autonomy and robotic technology advance. Texas A&M University researchers are analyzing how they can work together so one party can rise where the other is temporarily absent.
Building a trusting relationship between humans and robots

While there are as yet no emotional challenges (EQ) with cobots, this study looks at the evolving relationship between cobots and humans.
Cobots are taught through programming; This study will better determine how a cobot can be programmed to intervene when a human is exhausted.
The article goes on to say: "People bring flexibility and a high degree of understanding of a production line with them at relatively low costs. But because humans have finite physical and cognitive abilities, they tire and make mistakes in demanding work tasks. Where humans may not be able to move on, depending on the application, robots can help monitor the repetitive parts of a task, lift heavier objects, or exert force. "
Lead researcher and PhD student Sarah Hopko says, "More and more people are realizing that human-robot collaboration is a viable solution for automating production or finding solutions to problems that pose difficult or costly obstacles."
The aim of this research is to understand how specific human factors such as fatigue and trust interact with each other to ensure that the design of a collaborative robot takes into account the behavior and needs of the operator so that all the basics are covered.
Interestingly, this study backs up what we already know: humans and cobots are inextricably linked and are actually colleagues – not enemies.
When collaborating with a teammate at work, the identification of engagement or level of fatigue can be done either through exercise or a simple conversation. You can then use the information you collect to figure out how best to help your teammate. Hopko says the goal is a similar human-robot interaction.
The research team used a UR10 cobot to polish metal in conjunction with men and women. Before performing the manufacturing tasks, participants were exhausted with a challenging visual-spatial working memory task for an hour.
The results so far

Overall, the research team found that operator performance can be improved with increased levels of support and that increased support enables recovery from cognitive fatigue.
In the interview, Hopko said: "We also found that the female participants reported greater performance advantages through the use of high automation, while the male participants saw no benefit from the assistance despite comparable task performance."
It is fascinating to see how this study develops.
This compelling study could take the human-robot connection to the next level. We are excited to see how the study progresses and believe this will be of great benefit to local manufacturers in the future.
For more information, contact Rene Rose, Positiv for Universal Robots at Rene@positivltd.com or +61 474 476344.
About Universal Robots

Universal Robots (UR) was founded in 2005 to make robotic technology accessible to all by developing small, easy-to-use, affordable, and flexible collaborative robots (cobots) that can safely work side-by-side with humans. Since the introduction of the first cobot in 2008, the company has seen significant growth with the easy-to-use cobots that are sold around the world today. The company, which is part of Teradyne Inc., is headquartered in Odense, Denmark, and has regional offices in the USA, Germany, France, Spain, Italy, Great Britain, Czech Republic, Poland, Hungary, Romania, Russia, Turkey, China, India, Singapore, Japan, South Korea, Taiwan and Mexico. In 2020 Universal Robots had sales of $ 219 million.
You can find more information at universal-robots.com.