The first Buy from the Bush Festival takes place on September 18th at the Summer Land Camel Farm in the Scenic Rim.
It will be a celebration of the flavors, foods, faces, wines, tourist experiences, talents, crafts and products of the bush.
With the cancellation of the Ekka, producers and farmers who have used the 10-day event to share products from regional and rural areas with the communities can present their companies.
Kerri Brennan founded Buy From the Bush Qld in 2018 when their family-run cattle estate in Darling Downs was hit by a seven-year drought.
"Buy From the Bush Qld has always been about supporting the Queensland bush fighters with numbers," says Ms. Brennan.
"Out of my own pain of not knowing how to pay bills or keep the kids at school, and knowing so many other women and families in rural Queensland who had taken up sideline jobs to make ends meet I believe that if we call them, an army of supporters would gather, and that is what we saw.
"The people of the city have always been great supporters of Australian entrepreneurs, and Buy From the Bush Qld was designed to strengthen that connection with Australian rural companies."
Ms. Brennan also runs a retail store in New Farm, which is a cooperative of 50 rural and regional businesses.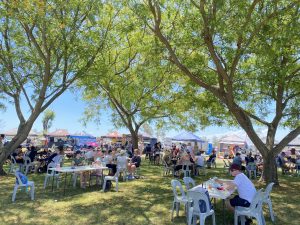 "We're making it easy and affordable for bush companies to sell their products and services. We've invited manufacturers, growers, producers, artists and companies from Longreach and of course across the Scenic Rim area – and it's perfect to ensure that Christmas is celebrated in Queensland on December 25th this year, "says Ms. Brennan.
Paul Martin, CEO of Summer Land Camels, added: "As a proud bush company, we can be the 18th supplier, entertainer and more.
"We also have live music, camel rides, farm tours, kids games, face painting, guest speakers and other activities – the best of the bush, right on the doorstep of town!"