Woolworths has increased its funding commitment to support Australian food aid organizations.
It has pledged up to $ 1 million in additional grocery and logistics support to help its long-term partners OzHarvest, Foodbank, and Fareshare, and Big W partner Good360 for everyday community needs.
An initial commitment of $ 500,000 from Woolworths will provide immediate assistance to increase the delivery of grocery baskets and prepared meals to Australians in need.
In addition, when shopping at Woolworths supermarkets (at least $ 30) and Metro stores (at least $ 15), customers can do their part by rounding up their purchases at self-service checkouts to the nearest dollar.
All funds raised in the raid will go to the Foodbank to deliver emergency food and groceries to Australian communities struggling due to the lockdowns and ongoing effects of Covid-19.
Woolworths will match dollar for dollar of any money donated by customers in-store or online up to $ 500,000 to further support its food aid partners, and Good360, which will distribute essential goods such as toiletries to the community.
"Caring for the Australian communities is an important part of what it means to be the Fresh Food People of today," said Brad Banducci, CEO of Woolworths Group.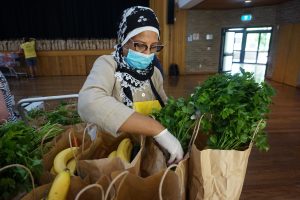 "We are constantly inspired by the way our teams, partners and customers work together to serve those most in need during the pandemic.
Brianna Casey, CEO of Foodbank Australia added: "This additional support from Woolworths could not have come at a more important time. With so many parts of the country currently under lockdown and the ongoing effects of Covid-19 being felt by communities everywhere, we have never been in need of emergency food aid.
Ronni Kahn, Founder and CEO of OzHarvest, added: "The increase in food aid to vulnerable Australians is unlike anything we've seen before. We thank Woolworths for recognizing this demand and helping us serve Australians in need at this crucial time. "
Marcus Godinho, CEO of FareShare, summarized: "Inquiries for FareShare meals have escalated as frontline charities seek to provide nutritious cooked meals to vulnerable Australians who are unable to cook themselves. With support from Woolworths, we will be preparing more free healthy home-style meals to help Australians in need. "