Press release
The organizers of the Food & Hospitality Queensland trade show have announced that the event will be rescheduled in October to ensure it can take place in full strength. The show will now take place at the Brisbane Convention & Exhibition Center from October 10-11, 2021.
Exhibition manager Liz Shaw says: "We made this decision in the best interests of exhibitors and visitors. This short delay allows the show to run safely and successfully. It's an incredibly important event for the food industry and this change will only make it bigger and better. "
All seminars, conferences and competitions associated with this exhibition will also be postponed to the new dates. These include the Queensland Chef of the Year, Chef Success Workshop, Brisbane Café School, and the Aged Care Catering Summit.
Shaw says, "The food and hospitality industry is ready to reconnect and rebuild. This show will be perfect at the right time to showcase those new ideas, new products and new technologies that are helping local food and beverage companies return to full strength. "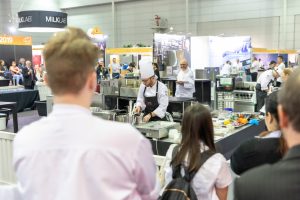 "We have over 200 exhibitors with the latest food, drink and equipment. We also have free seminars and the Queensland Chef of the Year finals. There is so much for people to see. It is the only fair for the food industry in the Sunshine State, so we expect a large participation. "
Exhibitor, visitor and conference registrations will be carried over to the new dates. The organizers are now contacting participants with details.
If you haven't already registered, now is the right time. Entry is free, but you must be over 16 and work in a food or hospitality business. For more information about the visit or the exhibition, visit foodandhospitality.com.au or call the team on 03 9999 5460.