While the Aussies have long been at their A-Game, they are now slipping when it comes to hand hygiene!
This is evident from studies in the Dettol Winter Hygiene Report.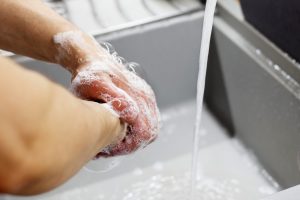 It found that despite the official recommendation to stay home, almost one in four Australians (23%) would still attend an important work meeting in person if they felt uncomfortable.
In addition, 1 in 4 (26%) would still go to the office or work place if they had the cold and almost 1 in 5 (17%) would attend a social event.
"In 2020, hygiene was paramount," says Associate Professor Holly Seale of the University of NSW.
"People became extremely vigilant about washing hands and disinfecting inside and outside the home, and followed government advice to stay home if they felt uncomfortable. However, with a change in our perception of risk, our assumption of these strategies has changed. "
She continues, "While most of us wash or disinfect our hands frequently throughout the day, 1 in 20 do this only once a day and almost 1 in 4 only 2-3 times a day or less."
A / Professor Seale points out that the problem here is, "We don't yet know what this flu season will be like and if we see an increase in the number of trips our flu cases may increase too".
It is now more important than ever to stay on the ball when it comes to hygiene.
A / Professor Seale's top tips for maintaining hygiene during the winter months:
Always wash your hands with soap and water for at least 20 seconds after going inside.
Carry instant hand sanitizer with you and in the car so you can maintain good hygiene practices while on the move.
When coughing or sneezing, always cover your mouth and nose with your elbow and immediately follow good hygiene.
Always stay at home if you feel unwell or have a cold.
Follow your local government's health advice.
Dettol invites community groups and charities to register for hygiene products:
Reckitt Hygiene ANZ Regional Director David Rankine said, "Access to health care is a right, not a privilege, and at a critical time like this we know that there is an enormous, undeserved community that voices access to the most important Things, including hygiene products, struggles.
"Dettol's job is to protect people from germs, so we started a new mission to get our hands on instant hand sanitizer for a million Australians in need in July."
Charities and community groups seeking access to hand sanitizer can submit their application via Consumerhealth_au@rb.com.