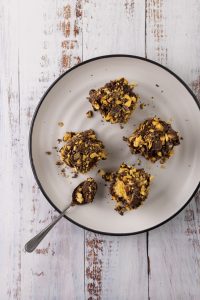 World Chocolate Day (July 7th) is just around the corner and Violet Crumble has commissioned a new study to reveal Australia's most popular chocolate dessert.
The top winner? Lamingtons!
In fact, 84% of Aussies rated this dessert # 1 of all time, with other honorable mentions including:
Chocolate pavlova – 68%
Chocolate crackers – 63%
Chocolate Brownies – 62%
"World Chocolate Day is an opportunity to taste and share stunning, locally made confectionery and celebrate the day the Australian way," said Phil Sims, CEO of Robern Menz, maker of Violet Crumble products.
"When you choose an iconic Australian-made chocolate treat like our Violet Crumble products, not only does it taste amazing, but it also feels good to know that you are supporting local businesses and jobs."
Robern Menz offers readers a new way to enjoy Lamingtons.
While the traditional Lamington recipes contain biscuit, cream, jam and coconut in addition to chocolate, Violet Crumble celebrate World Chocolate Day with a creative variant of the classic dessert.
"Combining two nostalgic favorites into a Violet Crumble Lamington was great fun for our team! The combination of these chocolate dessert icons is the perfect way to celebrate World Chocolate Day in a truly Australian way, "says Mr. Sims.
Click here to see the recipe for Violet Crumble Lamingtons.