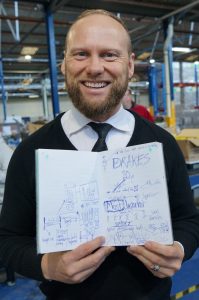 John-Paul Drake
If you follow me you will know that I love my motorsport. It's my passion outside of business and my family.
From Drakes Director John-Paul Drake.
Racing focused my thoughts. All I see when I'm behind the wheel is the twists and turns of the track (and the occasional tail of a competitor). It's a work of love and what I do for myself. It takes dedication to race, especially when you factor in the time you spend on that passion away from family.
Covid-19 has cut our season short, and this year's season also sees a reduced number of laps as motorsport, like so many other events around the world, seeks to find the new normal. I am fortunate to be in a country where travel is unrestricted (forgive or lift one or two bans) and we can get back to doing the things we love.
A standard race meeting usually involves going out on the track for three training sessions, one qualifying session, and three races. My team, Jam Motorsport, are the newcomers to the block and make it easy for me to just rock out and race. They take care of all aspects of my race – from preparing my car (including transport to the race meeting), through organizing my registrations, to my daily meal. I pull up to the track, buckle up and speed. The heavy lifting is done for me.
On the last lap it was Mother Nature who got in our way. Our second race was scheduled for 9:05 a.m., but bad weather and poor visibility resulted in race 2 being canceled. Discussions with the teams and marshals followed and we were told that we could drive to a postponed time slot of 5:00 p.m. that day, two hours after our last scheduled race and when most of the drivers and the pit crew were already ready for the return flight were booked at home.
Jam Motorsport has decided not to drive. With six drivers in the team, this meant that a third of the field would not drive. The other teams followed suit. There was little collusion with the drivers – those who pay thousands of dollars to take part. The cost of rebooking flights was insignificant compared to the cost of getting everything on track.
That got on my nerves.
Me, the paying customer. I was upset because I couldn't decide whether to stay. At Drakes, the customer always comes first. It's a mentality I've lived and breathed throughout my 30 year career, and I've come to realize that I've tried to apply that philosophy everywhere I go.
I've become a nightmare, a legitimate customer. I am karen.
Now that the buzz of this lap is behind me, I can think more calmly. Jam Motorsport has weighed its options: the cost of holding the pit crew back (in the dark), booking new flights and additional accommodation, potentially delaying work for other clients during the week, and the welfare of their crew after an already busy weekend. Like all amateur sports, motorsport is also largely carried out by people who do voluntary work in addition to full-time employment. Our pit crew is no different. All these impractical changes to keep their customers happy.
In business I have always said that my greatest asset is my team. I have rewritten dad's rule "the customer comes first". This cannot be at the expense of my team's well-being.
In this case, Jam Motorsport made the decision that best protected their team, and I'm 100 percent behind it, even if that means I'm a bit disappointed as a customer.
Whether the customer should always come first is at the discretion of the respective company. How do you decide who comes first? See below to let me know.
LinkedIn: @johnpauldrake
Facebook: @JPDrakeAU
Website: jpdrake.com.au
YouTube: jp drake
Instagram: @ shake.and.drake
Podcast: / DucksDontGetColdFeet