The latest installment of the News Corp Network Food Trend Forecast event is almost here and will be streamed from 11am to 12pm AEST on Thursday, June 17th.
Join Brodee Myers-Cooke of News Corp, Editorial Director, Mass Food, and Kerrie McCallum, Editorial Director, Premium Food & Travel and Editor-in-Chief, Escape as they share a seasonal snapshot and exclusive insight into key consumer mindsets and trends will determine the upcoming spring / summer and Christmas seasons.
This exclusive, free presentation combines analysis of our unrivaled data with the editorial expertise and foresight of our food experts to predict upcoming trends.
The audience can find out about the latest developments in health and cooking as a craft – from preserving and picking to brewing and preserving.
Additionally, the audience can gain a deeper understanding of how consumers are interacting with food through technology today and how you can push the boundaries of food content.
Following the presentation, the participants have the opportunity to ask the editorial and expert committee questions about the presented data and findings and the future of the FMCG industry.
Register for the event here.
Brodee Myers-Cooke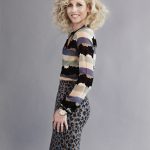 Kerrie McCallum