The "first" industrially compostable capsule, available in independent supermarkets across Australia, is both roasted and packaged in Melbourne.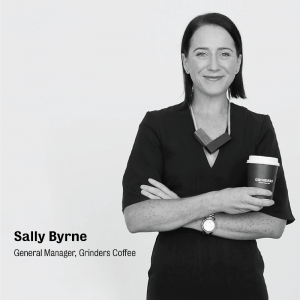 From Grinders Coffee General Manager Sally Byrne.
Grinders Coffee's new compostable capsules only take one year to break down in the landfill compared to plastic capsules, which take 500 years and aluminum capsules, 200 years to break down.
Australians have very high standards when it comes to coffee. As one of the leading coffee brands in Australia, Grinders Coffee continues to bring great innovation to the market with its new compostable capsules that don't compromise on taste while offering a sustainable option.
Three million capsules are thrown into landfill every day. Despite some recycling options for existing capsules that are available today, less than 5% of capsules are currently being recycled due to the challenges of collection and processing.
Mill capsules are now all organic waste certified for industrial composting. You don't have to remove the lid or separate the coffee from the capsule.
Our compostable capsules are a huge step forward in advancing and innovating in the coffee category. Capsules are the largest roast and ground segment at $ 259 million and the fastest growing coffee segment with over 40% growth. The move to more environmentally friendly capsules offers our customers a better alternative to what is currently available.
Australians have a love affair with coffee and enjoy curating and creating the perfect mug at home.
We bring great innovations for those coffee moments without compromising our rich taste.
The new compostable capsules allow Grinders' loyal consumers to continue enjoying the quality coffee they have known and loved since 1962, while also allowing new fans to enjoy the fruity, smooth delivery of Crèma, the perfect balance between Grinders & # 39; espresso or full To bring taste closer – bodied rich espresso or perhaps the strong, intense, dark chocolate notes of its double espresso coffee.
From coffee farmers to coffee lovers, Grinders is about creating a better coffee experience for everyone, and compostable capsules are just one way to provide a more sustainable choice for consumers across Australia who can now contribute to a healthier planet.
Grinders' mission is to ensure that all packaging is 100% recyclable and compostable by 2025.
Grinders has already started developing better designs, reducing weight and replacing virgin material with recycled content. Mugs are made from 100% PEFC certified sustainable and renewable resources.
Grinders has also introduced single-walled take-away cups, replacing all double-walled cups where possible. 40% waste reduction.
Grinders' collaboration with industry partners remains an important part of our mission as we continue to work with Planet Ark and other leading roasters to collect used coffee grounds to be used for innovative, higher value end uses. So far, more than 13 tons of coffee grounds have been used for other purposes – that's the equivalent of more than 550,000 coffees that have been saved in landfills.
We know Australians want more when it comes to their favorite brands and Grinders Coffee is doing everything possible to deliver a more sustainable range of coffees made with the highest quality coffee.
The new industrial compostable capsule range from Grinders Coffee is available now in independent supermarkets in Australia, Amazon and on the Grinders Coffee website.
About Sally Byrne

Sally Byrne is General Manager at Grinders Coffee. A seasoned executive with over 20 years of experience in blue-chip multinational organizations in strategy, consumer marketing, innovation, digital, media and sales, Sally leads Grinders Coffee on her mission to create a better coffee experience for Australians.