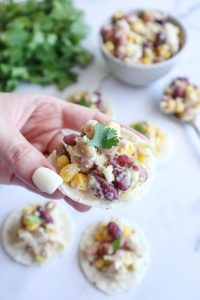 When you think of hommus, do you just think of crackers (or carrots) and dip? SSS Foods shows that you can go beyond that.
"Hommus can be used in almost any kitchen as a healthier spread, sauce or dressing," says Jalni Shah, General Manager of SSS Foods.
"You can bake with it, mix it with other ingredients and serve fresh. You can even sweeten it for desserts like brownies and mousses. All you have to add is your imagination. "
Below is a recipe from Food Blogger @eatingforfuel. Stay tuned to see more recipes that use SSS Foods Hommus hacks.
Mini Chicken Tortillas from @eatingforfuel
ingredients
2 gluten-free wraps
75 g four bean mixture
4 tbsp SSS Foods coriander, cumin + mild chili hommus
45g sweet corn
75 g cooked chicken or soy strips
Spices: garlic powder, onion powder, salt, pepper and paprika
Optional: a pinch of grated non-dairy cheese
Method:
Combine your cooked chicken or soy strips with SSS Foods Coriander, cumin + mild chilli hommus and your choice of spices in a medium-sized bowl.
After combining, add corn and beans, making sure they have drained and any excess fluid is removed.
You can either warm this mixture up (over low heat in an oiled pan) or enjoy it chilled.
Use a knife or cookie cutter to divide your gluten-free wraps into small circles.
Add a drop of the bean mixture to each one.
Top with freshly picked coriander and enjoy!
Previous articleAussies are showing their romantic side this year