It's the age-old dilemma – having a sweet tooth, but also wanting to make healthier choices when it comes to coffee, baking, or food in general.
Fortunately, Lakanto continues to offer #ResponsibleSweet options that shoppers can incorporate into their daily lives.
Below is a list of Lakanto products and their replacements:
To deceive Icing sugar, coconut sugar, raw sugar, palm sugar to the Lakanto baking mix.
To deceive Brown sugar to the Lakanto Golden Monkfruit Sweetener.
To deceive White sugar to the Lakanto Classic Monkfruit Sweetener.
To deceive powdered sugar to the Lakanto Icing Powder.
To deceive Maple syrup / honey / rice malt syrup to the Lakanto maple flavored syrup.
Talking about monkfruit sweeteners, TV host, bestselling cookbook author, functional nutritionist and trainer Luke Hines says, "Monkfruit has changed the way I eat for the better because I can still enjoy my favorite foods, but in a way that makes it low carb, keto, so I don't have to compromise on my health goals. "
What is monk fruit?
Monk fruit gets its sweetness from antioxidants in the pulp (melon-like). The new sweetener has 93% fewer calories than sugar, no net carbohydrates, no glycemic effects and no fiber, maltodextrin, stevia, artificial sweeteners or flavors.
This makes it suitable for those on a gluten-free, diabetic, ketogenic, candida, paleo, vegan, and low-carb diet.
Speaking of diabetics …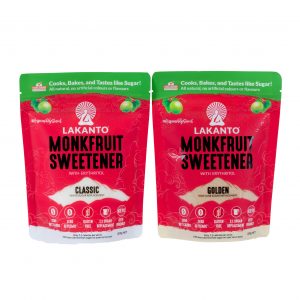 Lakanto sponsors the Starlight Children's Foundation, Sugar Free Me!
The initiative is to stop using sugar for 30 days and raise funds for sick children. The challenge will take place live from November 1st to 30th and coincide with World Diabetes Day on November 14th.
Click here for recipe ideas for the Lakanto range.
Learn more about Sugar Free Me! The Starlight Foundation! Challenge, click here.
Lakanto Monkfruit sweeteners are available in the sugar aisle in over 2500 stores across the country, including Woolworths, Coles, Drakes, Ritchie's IGA and select health food stores.
Visit the Lakanto website for more information. Be on the lookout for the next issue of Retail World magazine as we have some exciting Lakanto news!