Steve Price
Every Monday when I show up at Network Ten's South Yarra headquarters in Melbourne to take fourth place on The Project, I'm reminded of how Covid-19 has changed things.
By Steve Price.
For 10 years, the program and producers hosted a pre-show content meeting at a conference table on the fourth floor. The producers would set up the story rundowns for the show that evening, we would discuss questions and discuss ideas.
After that meeting, a visit to the fifth floor for hair and makeup – a process I still don't like – often ended with an ongoing debate between myself, Waleed Ali, Carrie Bickmore, and Pete Helliar.
It was a robust and constructive debate. Strong opinions were expressed and I am sure the final product made for a superior show. After the hair and makeup, we ended up on the main desk with Pete on the far left for the audience and me on the right.
Many people observed that this was the correct positioning, although I am less convinced that waleed in the middle fits that argument.
Oh how I wish these protocols existed before Covid-19. Like any other business in Australia, television has changed radically and had to turn to survive.
Ten's workforce has been cut down to survive a Covid world, although the project has managed to maintain its numbers and ratings. The visits to the desk on Monday are now very different from those in March.
It may sound like a small change, but I'm no longer allowed to sit on the main desk. Instead I'm on the same floor, but alone in an adjoining studio with a cameraman and a studio director.
This means that a casual conversation between the four of us is no longer possible during the commercial breaks. I still have audio but no physical eye contact. This also means that on live broadcasts I have to judge when to intervene in an interview with a verbal interjection and have no way of using a show of hands or eye contact to step in.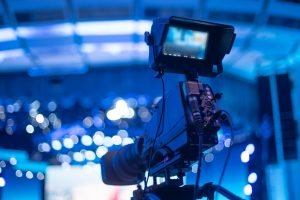 Another Covid-19 victim was our live audience. For ten years about five rows in the back of the studio were filled with a clapping, gasping, laughing group from the suburbs of Melbourne, or rather from a collection of backpackers, tourists, or program sponsors.
The project employed a collection of warm-up people to get the audience going, and Pete Helliar always put on a mini stand-up comedy show to lighten the mood.
There hasn't been a live audience since social distancing was introduced, and I honestly believe this may never happen again.
These physical changes due to Covid-19 will also affect the program content. For example, guests in my 10 years have included everyone from Elmo, the puppet from Sesame Street to then Prime Minister Malcolm Turnbull. A crowd of actors, comedians and musicians were banned from the studio.
No personal debates, instead, like many other Australians, we had to use Skype, Zoom or FaceTime – great technology, but I can tell you that being a shady politician without fear of contradiction is a lot more fun to be face to face.
The Covid-19 pandemic has hit many other areas of the media as well. Radio programs I appear on had to vacate stationary studios with presenters connected to digital studios installed at home.
Eddie McGuire of Triple M's hot breakfast broadcasts from his Toorak home, an AFL established hotel center on the Gold Coast and nine studios in Queensland.
Sydney's 2GB's Ray Hadley broadcast mostly from home but I also met him broadcasting from a back room of his golf club in northwest Sydney.
AFL games were remotely called up from television monitors with potted crowd noises on the Seven Network from two different states by commentators Brian Taylor and Bruce McAvaney.
You can trust me this is a lot harder than it looks, but the success of these Covid-imposed changes will have a lasting impact on the way the Australian media works.
Media bosses have recognized that it is possible to get things done much easier and cheaper. Like the rest of the Australian workforce, Covid-19 changed your media forever and I doubt things will ever get back to the way they were.
About Steve Price
Steve Price is a national media figure who appears nationwide on television, radio, and in print. He is a panelist on Network Ten & # 39; s The Project and appears weekly on Melbourne's Triple M Hot Breakfast program. Most recently, he presented a networked radio talkback program across Australia.
He has just published two podcasts on the podcast platforms "On The Record" – a behind-the-scenes chat with the biggest names in Australian media – and "On The Road" – a travel podcast with travel tips for Australia and overseas.
Steve appeared on the third season of Ten & # 39; s I & # 39; m a Celebrity Get Me Out of Here for 43 days and won the Christmas edition of Celebrity Come Dine with Me on Foxtel. He began his journalistic career in print at Adelaide News before moving to the Melbourne Herald that afternoon and graduating as Assistant Editor before moving to 3AW Melbourne as Chief Content Director and Drive Presenter.
In 2002 he moved to Sydney's 2UE and presented the breakfast, drive and morning programs networked in Australia.