Fine foods are popular in many food categories as shoppers indulge in a type of luxury that is more than just enjoyment.
"Retailers are increasingly realizing that not only do they need to offer low prices in order to generate customer loyalty and footfall, but that their customers' perception of value is actually a combination of price, but also reach, quality, innovation and excitement," says Di Jones. Australian Director of Sales and Marketing at Somerdale International.
What exactly is classified as good food? Is it just something that is advertised as "Gourmet" or "Premium"?
"I think (fine dining) is being redefined by millennials as products that fit their values ​​and needs – that have characteristics like delicious taste, functionality, origin and sustainability, and that are made and made for ethical reasons," says Sam, Natural Managing Director of Tucker Tucker.
Yes, please to cheese specialties
Entertaining cheese sales were "relatively stable" in volume (up 0.5 percent) and up 6.5 percent in value (IRI scan data YTD to 6/28/20, supplied by Somerdale International).
"It is not surprising that the Covid-19 pandemic had a significant impact on sales, especially in April and the important Easter season, when all segments were down year-on-year," says Ms. Jones.
She adds that the easing of lockdowns in most parts of Australia has resulted in a pleasingly positive spike in consumption, with sales falling sharply in both volume and value.
Premiumization of the snack event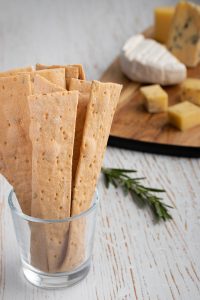 Tuckers Natural Artisan Crackers, rosemary, flaxseed and rock salt.
With the paradigm shift in consumer behavior, snack food has emerged as an alternative to whole meals, according to Tucker.
"Taste, diet, and convenience are three important factors when choosing a snack," he says.
"With that in mind, we're seeing an industry-wide conscious effort to reduce sugar levels; an increase in functional ingredients like turmeric, hemp, and ginger; lower carbohydrate options; plant-based mini-meals, high-protein snacks, and digestive products."
Read more about the best cheese and snacks in the September issue of Retail World.