Big Shed Brewing via Maisie Callcott (COMPANY)
If you're feeling a little cuter today, there's a good reason for it! Today is the ninth annual FruChocs Appreciation Day.
The day is an opportunity to praise and enjoy the South Australian chocolate-coated peach and apricot balls that have been produced for over 70 years.
With a focus on local collaborations to commemorate the special day this year, South Australians have the opportunity to indulge in TWO limited-edition FruChoc beer flavors from Adelaide's Big Shed Brewing Concern.
The BruChoc beer will be available starting this lunchtime at Big Shed Brewing in Royal Park and will be sold in eight packs, four packs and single packs as well as on tap. It was also available from local bottle stores.
"We always thought that partnering with a legendary SA company like Robern Menz and his FruChocs would generate a reaction, but we had no idea that BruChocs would sell out in record time last year …" says Big Shed co-owner, Craig Basford.
"In these crazy times, you think that things will get 'normal' again at some point."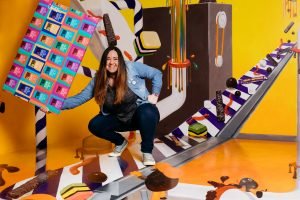 Casey C via Maisie Callcott (COMPANY)
Art for FruChocs
In addition, Robern Menz worked with local illustrator Casey C to create a collection of custom gift boxes for his FruChocs products.
"The fact that my love for South Australia and my artwork with FruChocs fit into this moment is one of the highlights of my career, and I'm so proud to be part of such an iconic brand story," says Casey.
The limited boxes will be available from August 21, 2020 in the Menz FruChoc stores in Glynde, Hahndorf and McLaren Vale and will become collectibles.
For more information, please visit robernmenz.com.au and have a nice FruChoc Appreciation Day!