Modi® Apple, marketed by the Freshmax Group in Australia, announces its new partnership with Breast Cancer Network Australia (BCNA).
"We are delighted to be working with a reputable organization like BCNA," said William Snell, CEO of Freshmax Direct.
"This will not only help us to make a contribution to society, but also strengthen Modi® Apple's position as a socially responsible brand. In recent years we have had some strong results in terms of sales and brand awareness of Modi® Apple on the domestic and export market.
"With this new partnership, we look forward to becoming a facilitator of change and implementing Freshmax Group's vision of corporate social responsibility."
2020 is the 22nd year of BCNA innovation, support and advocacy. With the changing conditions created by the COVID-19 pandemic, BCNA relies more than ever on partner and community support.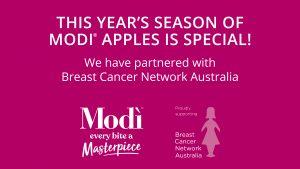 "The spread of the virus worldwide is alarming, and we hear every day firsthand the impact of this pandemic on people who are already at risk, and underlines that Australians affected by breast cancer need us more than ever" says Kirsten, CEO of BCNA Pilatti.
"We are delighted to partner with Modi® Apple as new partnerships like these enable us to continue to offer resources such as our phone helpline and online tool My Journey to provide up-to-date information and support that is more important in times like these are . "
The 2020® Modi® Apple marketing program focuses on a holistic approach to aligning Modi® Apple's brand identity with the BCNA vision.
More details will be available shortly on modiapple.com.au