MELBOURNE, AUSTRALIA – FEBRUARY 6: (LR) Patrick Dangerfield from the Cats, Lisa Ronson, Chief Marketing Officer from Coles, GM Commercial Kylie Rogers from AFL and Stephanie Chiocci from the Magpies, pose for a photo during the AFL partnership announcement on 6 February 2020 in Melbourne, Australia. (Photo by Daniel Pockett / AFL Photos)
media release
February 6, 2020
AFL welcomes an exciting new partnership today, in which Coles is named the official supermarket of AFL and AFLW under an exclusive five-year contract.
As the new leading partner of AFL, Coles invests in both women's and men's soccer, from local grassroots to professional elite soccer. The focus of the partnership is on a healthy lifestyle.
Throughout the partnership, Coles and the AFL will work together and focus on issues that matter to both organizations, including health, nutrition, inclusion and community support. This ensures that "good things" take priority at all levels of the game.
The famous red Coles logo will also be the focus of the circle from the start of the AFL Toyota Premiership season 2020.
In addition to the partnership, Coles will support AFL's Bushfire Appeal Double Header. Coles volunteers to raise funds for the AFL Community Relief Fund, which supports the reconstruction and repair of facilities in affected communities across Australia.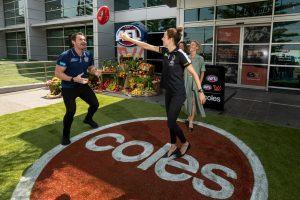 MELBOURNE, AUSTRALIA – FEBRUARY 6: during the AFL Partnership Announcement on February 6, 2020 in Melbourne, Australia. (Photo by Daniel Pockett / AFL Photos)
AFL Director General Commercial Kylie Rogers welcomed the partnership with Coles and additional support for the AFL's Bushfire Community Relief Fund.
"We are excited to partner with one of Australia's best known and most trusted brands. The partnership is a perfect match because both AFL and Coles are committed to giving something back to local communities and offering opportunities to all Australians, "said Rogers.
"Our mutual commitment ensures that we can continue to invest in our sport to encourage participation and growth at all levels of the game."
Lisa Ronson, Coles' chief marketing officer, said the partnership would help drive game development in communities across Australia.
"As two Australian organizations with more than 100 years of history, Coles is pleased to be able to embark on this journey with the AFL family. Cole's goal of sustainably feeding all Australians and helping them live a happier and healthier life is largely based on the positive impact of AFL across the country, "said Ronson.
"This partnership will help improve the fun of the games for women and men that are loved, played and viewed by so many of our customers and team members."
Source: Medianet.